Bring the Funny: The Essential Companion for the Comedy Screenwriter (Hardcover)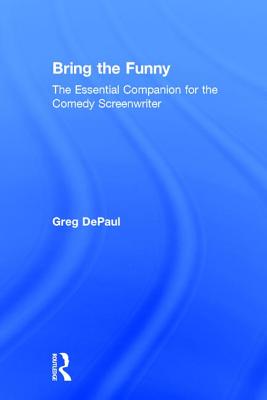 $260.00
This item is not currently available to order.
Description
---
A sharp, funny book about comedy screenwriting from a successful screenwriter that uses recent - as in this century - movies you've actually seen as examples.
Greg DePaul (Screenwriter, Bride Wars, Saving Silverman) has sold scripts to Miramax, Fox, Disney, New Line, Sony, MGM and Village Roadshow. He's worked with comedy stars like Jack Black, Kate Hudson, Jason Biggs and Amanda Peet.
Now Greg takes everything he knows about writing comedy and breaking into the biz, tosses it into a blender and serves up this tasty, fat-free smoothie of a book that's easy to read, brutally honest, and straight from the heart ... of Hollywood.
Bring the Funny is chock full o' tricks, strategies and insider terms used by successful comedy screenwriters, including:
Comic Justice Wrylies Genre-Bending Shadow Characters
The BDR's The Two-Hander The Conceit Comedic Escalation
Gapping A.I.C. Fish Outta Water The Idea Factory
Really Important Comedy Screenwriting Rules Number 99 and 100
If you're looking to write funnier and better screenplays, you want this book. But if you're ready to pack up your car, drive out to L.A., and dive into a career as a comedy screenwriter, you need this book. Now.
Buy it, jam it into your pocket, and hit the gas. Greg's got your back.