Hillary Rodham Clinton: A Woman Living History (Hardcover)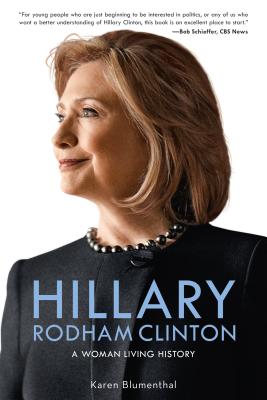 $20.89
This item is not currently available to order.
Description
---
As a young girl, Hillary Diane Rodham's parents told her she could be whatever she wanted--as long as she was willing to work for it. Hillary took those words and ran. In a life on the front row of modern American history, she has always stood out--whether she was a teen campaigning for the 1964 Republican presidential candidate, winning recognition in Life magazine for her pointed words as the first student commencement speaker at Wellesley College, or working on the Richard Nixon impeachment case as a newly minted lawyer.

For all her accomplishments, scrutiny and scandal have followed this complex woman since she stepped into the public eye—from her role as First Lady of Arkansas to First Lady of the United States to becoming the first female U.S. senator from New York to U.S. secretary of state. Despite intense criticism, Hillary has remained committed to public service and dedicated to health-care reform, children's issues, and women's rights. Now, she aspires to a bigger role: her nation's first woman president.

In Hillary Rodham Clinton: A Woman Living History, critically acclaimed author Karen Blumenthal gives us an intimate and unflinching look at the public and personal life of Hillary Rodham Clinton. Illustrated throughout with black-and-white photographs and political cartoons, this is a must-have biography about a woman who has fascinated--and divided--the public, who continues to push boundaries, and who isn't afraid to reach for one more goal.

"After decades in the public eye, Hillary Rodham Clinton is still an enigma, as Blumenthal (Tommy: The Gun That Changed America) emphasizes in this compelling portrait of the former U.S. Senator and Secretary of State's journey from budding activist to presidential aspirant." —Publishers Weekly, starred review
About the Author
---
Karen Blumenthal (1959-2020) was a financial journalist and editor whose career included five years with The Dallas Morning News and twenty-five with The Wall Street Journal—where her work helped earn the paper a Pulitzer Prize for its breaking news coverage of the September 11, 2001 attacks—before becoming an award-winning children's non-fiction book writer.

Three of her books, Hillary Rodham Clinton: A Woman Living History, Steve Jobs: The Man Who Thought Different, and Bootleg: Murder, Moonshine, and the Lawless Years of Prohibition, were finalists for the YALSA Excellence in Nonfiction for Young Adults Award.

Karen was also the author of Six Days in October: The Stock Market Crash of 1929 (named a Sibert Honor Book), Let Me Play: The Story of Title IX (winner of the Jane Addams Children's Book Award), Tommy: The Gun That Changed America, Bonnie and Clyde: The Making of a Legend, and Jane Against the World: Roe v. Wade and the Fight for Reproductive Rights.
Praise For…
---
"Thorough and evenhanded. . . . Blumenthal, a longtime Wall Street Journal reporter, is part of a current wave of narrative nonfiction authors who write for teenagers with such directness and clarity that adult readers, too, may gain a deeper understanding. . . . Providing nuanced but clear explanations for the ways Hillary's personality and personal history have shaped her political career is where Blumenthal's method really pays off." —The New York Times

"After decades in the public eye, Hillary Rodham Clinton is still an enigma, as Blumenthal (Tommy: The Gun That Changed America) emphasizes in this compelling portrait of the former U.S. Senator and Secretary of State's journey from budding activist to presidential aspirant." —Publishers Weekly, starred review

"A richly detailed study that is as perceptive as it is engaging." —Kirkus Reviews

"An in-depth portrait that gives teens a real feel for the woman behind the politics." —Booklist

"More objective and even more comprehensive than Cynthia Levinson's Hillary Rodham Clinton: Do All the Good You Can (HarperCollins, 2016), this volume covers many aspects of Hillary Clinton's life and achievements. . . . Clinton is presented as an intensely private person in a public life, and Blumenthal objectively discusses the contradictions between Clinton's beliefs and some of her actions and examines the many controversies and scandals that have been a part of the Clintons' lives since their early years in public service. . . . Small photos supplement the text, and "Drawn and Quartered" sidebar reproductions of negative and positive editorial cartoons illustrate public perceptions of Clinton's personality, life, and work." -School Library Journal