The Almost Nearly Perfect People: Behind the Myth of the Scandinavian Utopia (Paperback)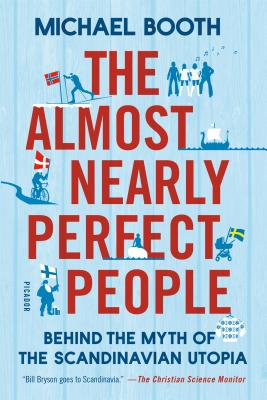 $20.00

Available in our Warehouse: Usually Ships in 3-8 Days
Description
---
The Christian Science Monitor's #1 Best Book of the Year

A witty, informative, and popular travelogue about the Scandinavian countries and how they may not be as happy or as perfect as we assume, "The Almost Nearly Perfect People offers up the ideal mixture of intriguing and revealing facts" (Laura Miller, Salon).

Journalist Michael Booth has lived among the Scandinavians for more than ten years, and he has grown increasingly frustrated with the rose-tinted view of this part of the world offered up by the Western media. In this timely book he leaves his adopted home of Denmark and embarks on a journey through all five of the Nordic countries to discover who these curious tribes are, the secrets of their success, and, most intriguing of all, what they think of one another.

Why are the Danes so happy, despite having the highest taxes? Do the Finns really have the best education system? Are the Icelanders as feral as they sometimes appear? How are the Norwegians spending their fantastic oil wealth? And why do all of them hate the Swedes? In The Almost Nearly Perfect People Michael Booth explains who the Scandinavians are, how they differ and why, and what their quirks and foibles are, and he explores why these societies have become so successful and models for the world. Along the way a more nuanced, often darker picture emerges of a region plagued by taboos, characterized by suffocating parochialism, and populated by extremists of various shades. They may very well be almost nearly perfect, but it isn't easy being Scandinavian.
About the Author
---
Michael Booth is a journalist, broadcaster, and keynote speaker. He is the author of several works of non-fiction, including the award-winning, international best-seller, The Almost Nearly Perfect People and Super Sushi Ramen Express. He is a correspondent for Monocle magazine and Monocle M24 radio, as well as other international publications. His works have been adapted by BBC radio in the UK and NHK TV in Japan, and translated into over twenty languages.
Praise For…
---
"Bill Bryson goes to Scandinavia." —Christian Science Monitor (Ten Best Books of January)

"Booth's extremely funny character analysis of Scandinavia (which includes the adjacent Arctic-Circle floaters, Iceland and Finland) gives an incisive yet comprehensive overview of each of these reputedly lucky lands...His chapters betray a clear affection for the icy region he calls home, and gradually allow a clearer identity for each country to emerge." —The New York Times Book Review

"Outrageously entertaining...Like members of a family, each of these five nations, despite a strong shared resemblance, has its own character, and Booth really is the guy you want to explain the differences to you. The Almost Nearly Perfect People offers up the ideal mixture of intriguing and revealing facts." —Laura Miller, Salon

"Booth's project is essentially observational; it aspires to a comic genre that might be called Euro-exotica. The form was well established by the time Twain published The Innocents Abroad in 1869, and it has been carried through the twentieth century by writers as varied as S. J. Perelman and Peter Mayle....In this sense, Booth's book is as much about Anglo-American power as it is about the Nordic way." —The New Yorker

"Part travelogue, part cultural history, Michael Booth's book about Nordic countries is crammed with some truly bizarre facts." —Entertainment Weekly

"The result of Booth's ethnographic snooping is this insightful, entertaining and very funny book. Booth also happens to be a terrific ambassador to the often insular and sometimes baffling behavior of the Nordic peoples….Anthropological research has never been this much fun." —Chicago Tribune

"A lively exploration that's part ethnography and part travel guide…at its core, The Almost Nearly Perfect People is driven by genuine curiosity and appreciation for a singular part of the world most Americans know very little about--and could stand to learn a thing or two from." —The Daily Beast (Hot Reads)

"A humorous deconstruction of the belief that the Scandi nations are each a social paradise while affirming that life in one of the five can be quite congenial. Finally, an answer to the pressing question, how can Danes be so happy while paying such high taxes?" —The New York Daily News

"An entertaining, authoritative, and often funny travelogue." —Minneapolis Star Tribune

"It is said that most people can't tell one Nordic country from another. Maybe so, but what they do know is that these nations are exceptional. This collective exceptionalism is worth studying up close and Michael Booth's book is a good place to begin. He writes with irony and charm and in the end, much affection for his adopted home in Denmark." —The Huffington Post

"Booth is often funny, and he keeps us engaged." —The Week

"With his tongue never too far from his cheek, British journalist Michael Booth takes an ironic scalpel to what seems to be the modern obsession with the so-called perfection of life in the five Northern European countries in his The Almost Nearly Perfect People....a truly interesting and enjoyable piece of writing." —Seattle Post-Intelligencer

"[Booth's] dry wit permeates the book…He has written an immersive, insightful, and often humorous examination of a most curious culture." —Publishers Weekly

"If, like many, you may never make it to Denmark, Iceland, Norway, Finland, or Sweden, this is your book, and Booth is your guide. He is congenial, game, funny, and observant. And he tells it like it was…" —Booklist

"Booth brings a deliciously droll sense of humor to his mission." —BookPage

"An enjoyable, funny romp through the region." —The Telegraph (London)

"Booth offers an affectionate, observant, engaging look at Scandinavia, where trust, modesty and equality proudly prevail." —Kirkus Reviews

"I laughed out loud . . . A lively and endearing portrait of our friends in the north, venerated globally for their perfectly balanced societies but, it turns out, as flawed as the rest of us--or at least only almost perfect." —The Observer (UK)

"A rollicking travelogue . . . [and] a welcome rejoinder to those who cling to the idea of the Nordic region as a promised land." —Financial Times

"Sorry, liberals, Scandinavian countries aren't utopias." —The New York Post

"Entertaining stuff and very readable." —The Independent (UK)

"Booth is an assiduous excavator of entertaining facts." —The Times (London)