Alexander Hamilton, Revolutionary (Hardcover)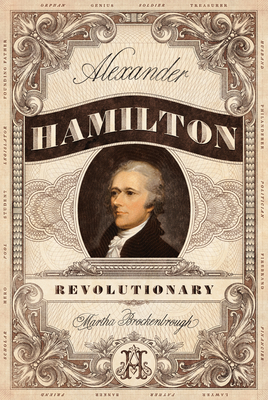 $19.99
This item is not currently available to order.
Description
---
Complex, passionate, brilliant, flawed—Alexander Hamilton comes alive in this exciting biography.

He was born out of wedlock on a small island in the West Indies and orphaned as a teenager. From those inauspicious circumstances, he rose to a position of power and influence in colonial America.

Discover this founding father's incredible true story: his brilliant scholarship and military career; his groundbreaking and enduring policy, which shapes American government today; his salacious and scandalous personal life; his heartrending end.

Richly informed by Hamilton's own writing, with archival artwork and new illustrations, this is an in-depth biography of an extraordinary man.
About the Author
---
Martha Brockenbrough draws on her diverse experience in journalism, research, nonfiction, and literary teen fiction to bring Alexander Hamilton to life in Alexander Hamilton, Revolutionary. A powerful storyteller and narrative voice, Brockenbrough is also the author of the critically acclaimed YA novels The Game of Love and Death and Devine Intervention. She enjoys reading Hamilton's original correspondence, playing board games, and spending time with her family. She lives in Seattle, Washington.
Praise For…
---
Praise for Alexander Hamilton, Revolutionary:

"A highly enjoyable, well-researched biography of Alexander Hamilton that both applauds his significant accomplishments and highlights his flaws." —School Library Journal, starred review

"Brockenbrough's ambitious and impressively researched project gives equal weight to Alexander Hamilton's personal and professional lives and to the history of the founding and early years of the United States." —Publishers Weekly

"The musical Hamilton has unleashed a crop of young Hamiltonians on the world, but where are they to go if they're looking for some biographical expansion without tackling Ron Chernow's adult work? Brockenbrough . . . comes to the rescue with this lively and affectionate treatment of the subject." —The Bulletin

"Hamilton's life is an inspiration, a fact that Brockenbrough captures nicely in a well-written biography . . . Expect wide reader interest." —Booklist

"Brockenbrough takes the reader on a chronological journey through his life using biographical research to present a well-rounded account that explores his strengths and flaws. Interested readers will find this depth satisfying" —VOYA

Praise for The Game of Love and Death:

"Haunting and masterfully orchestrated." —Kirkus Reviews, starred review

"Inventive and affecting." —Publishers Weekly, starred review

"Breathtaking prose." —Booklist, starred review


Praise for Divine Intervention:

"Frequently hysterical . . . devastatingly honest writing that surprises with its occasional beauty and hits home with the keenness of its insight." —Kirkus Reviews, starred review