The Four Winds: A Novel (Hardcover)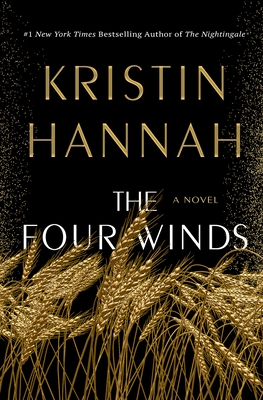 February 2021 Indie Next List
---
"A brilliantly woven narrative set during the Dust Bowl years on the High Plains of Texas, The Four Winds is a story of survival that inspires us to persist. Hannah extensively researched the devastation of this climatic and agricultural phenomenon and its toll on communities, which seamlessly informs the deftly woven narrative of the life of Elsa, a woman who finds that she has more tenacity and resourcefulness than she had been raised to believe — and then some."
— Claudia Maceo, The Twig Book Shop, San Antonio, TX
Description
---
#1 NEW YORK TIMES BESTSELLER
#1 USA TODAY BESTSELLER
#1 WALL STREET JOURNAL BESTSELLER
#1 INDIE BESTSELLER

"The Four Winds seems eerily prescient in 2021 . . . Its message is galvanizing and hopeful: We are a nation of scrappy survivors. We've been in dire straits before; we will be again. Hold your people close."—The New York Times

"A spectacular tour de force that shines a spotlight on the indispensable but often overlooked role of Greatest Generation women."—People

"Through one woman's survival during the harsh and haunting Dust Bowl, master storyteller, Kristin Hannah, reminds us that the human heart and our Earth are as tough, yet as fragile, as a change in the wind." —Delia Owens, author of Where the Crawdads Sing

From the number-one bestselling author of The Nightingale and The Great Alone comes a powerful American epic about love and heroism and hope, set during the Great Depression, a time when the country was in crisis and at war with itself, when millions were out of work and even the land seemed to have turned against them.

"My land tells its story if you listen. The story of our family."

Texas, 1921. A time of abundance. The Great War is over, the bounty of the land is plentiful, and America is on the brink of a new and optimistic era. But for Elsa Wolcott, deemed too old to marry in a time when marriage is a woman's only option, the future seems bleak. Until the night she meets Rafe Martinelli and decides to change the direction of her life. With her reputation in ruin, there is only one respectable choice: marriage to a man she barely knows.

By 1934, the world has changed; millions are out of work and drought has devastated the Great Plains. Farmers are fighting to keep their land and their livelihoods as crops fail and water dries up and the earth cracks open. Dust storms roll relentlessly across the plains. Everything on the Martinelli farm is dying, including Elsa's tenuous marriage; each day is a desperate battle against nature and a fight to keep her children alive.

In this uncertain and perilous time, Elsa—like so many of her neighbors—must make an agonizing choice: fight for the land she loves or leave it behind and go west, to California, in search of a better life for her family.

The Four Winds is a rich, sweeping novel that stunningly brings to life the Great Depression and the people who lived through it—the harsh realities that divided us as a nation and the enduring battle between the haves and the have-nots. A testament to hope, resilience, and the strength of the human spirit to survive adversity, The Four Winds is an indelible portrait of America and the American dream, as seen through the eyes of one indomitable woman whose courage and sacrifice will come to define a generation.
About the Author
---
KRISTIN HANNAH is the #1 New York Times bestselling author of more than twenty novels, including The Nightingale, The Great Alone, and The Four Winds. A former lawyer turned writer, she lives with her husband in the Pacific Northwest.
Praise For…
---
Praise for The Four Winds:

The Today Show/Jenna's Book Club February Pick
One of "2021's Most Highly Anticipated New Books"—Newsweek
One of "27 of 2021's Most Anticipated Historical Fiction Novels That Will Sweep You Away"—Oprah Magazine
One of "24 books for February"—GMA.com
One of "The Most Anticipated Books of Winter 2021"—Parade
One of the "Books Everyone Will Talk About in 2021"—PopSugar
One of "The 57 Most Anticipated Books Of 2021"—Elle
One of "32 Great Books To Start Off Your New Year"—Refinery29
One of "25 of the Best Books Arriving in 2021"—BookBub
One of "The 21 Best Books of 2021 for Working Moms"—Working Mother
One of "The Most Anticipated Winter Books That Will Keep You Cozy All Season Long"—Stylecaster
One of the "Most Anticipated Books of 2021"—Frolic

"The Four Winds by Kristin Hannah is a captivating, heartbreaking tale of a family who will do anything for each other — and everything to survive. The strength of Hannah's prose brings the characters to life in a way that will make you unable to tear yourself away from them. You will celebrate their triumphs, mourn their tragedies, and commend their bravery.

Through it all, it is easy to feel Hannah's desire to honor those who lived and fought through this devastating time in history. The Four Winds is also an ode to the strength and ferocity of mothers, and a declaration that sometimes, love is the only thing that holds us together.

Above all else, The Four Winds is merely a really good story, one that hits you in all the right places and will keep surprising you until the end."—Associated Press

"Epic and transporting, a stirring story of hardship and love...Majestic and absorbing."—USA Today

"Hannah brings Dust Bowl migration to life in this riveting story of love, courage, and sacrifice...combines gritty realism with emotionally rich characters and lyrical prose that rings brightly and true from the first line"— Publishers Weekly (starred review)

"Outstanding.... [A] rich, rewarding read about family ties, perseverance, and women's friendships and fortitude." — Booklist (starred review)

"Brutally beautiful."—Newsweek

"One woman's journey exemplifies the hard choices families faced when confronted with survival versus a sense of home."—GoodMorningAmerica.com

"The Four Winds is a sweeping epic about an American struggling to keep her family afloat. It feels eerily timely as it highlights the ways women rally during a national crisis."—Real Simple

"A heartbreaking but beautiful story of sacrifice, courage, love, and hope. Grab the tissues."—The Skimm

"Through one woman's survival during the harsh and haunting Dust Bowl, master storyteller, Kristin Hannah, reminds us that the human heart and our Earth are as tough, yet as fragile, as a change in the wind. This mother's soul, suffering the same drought as the land, attempts to cross deserts and beat starvation to save her children with a fierce inner strength called motherhood. A timely novel highlighting the worth and delicate nature of Nature itself." —Delia Owens, author of WHERE THE CRAWDADS SING
We appreciate your continued support!
If you would like to make a donation to help us through CLICK HERE.