96 Miles (Paperback)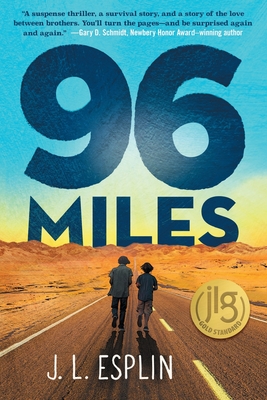 Staff Reviews
---
4 people, 3 days, 1 cup of water a day, 96 miles to walk. Set in the desert as the power grid goes out and vigilante law is rampant, 4 young people are faced with the toughest survival decisions they have ever faced. A page turner through and through!
— Carissa
Description
---
Now in paperback: J. L. Esplin's 96 Miles is a survival story sure to appeal to fans of Gary Paulsen's classic Hatchet and Lauren Tarshis's bestselling I Survived series.

21 days without power. Two brothers on a desperate trek. 72 hours before time runs out...

The Lockwood brothers are supposed to be able to survive anything. Their dad, a hardcore believer in self-reliance, has stockpiled enough food and water at their isolated Nevada home to last for months. But when they are robbed of all their supplies during a massive blackout while their dad is out of town, John and Stew must walk 96 miles in the stark desert sun to get help. Along the way, they're forced to question their dad's insistence on self-reliance and ask just what it is that we owe to our neighbors, to our kin, and to ourselves.

From talented newcomer J. L. Esplin comes this story of survival and determination as two young brothers confront the unpredictability of human nature in the face of desperate circumstances.

"A suspense thriller, survival story, and a story of the love between brothers. You'll turn the pages and be surprised again and again."—Gary D. Schmidt, Newbery Honor Award-winning author of The Wednesday Wars

"Readers who enjoy realistic survival stories will not be able to put down Esplin's debut…. Filled with survival techniques, danger, and overcoming realistic obstacles, this story will have readers turning pages. A great choice for lovers of Gary Paulsen's Hatchet or Roland Smith's Peak."—School Library Journal
About the Author
---
J. L. ESPLIN grew up with a Secret Service agent father, who was intent on raising self-reliant kids, prepared for any emergency, especially natural disasters. She lives in Las Vegas, Nevada, on the edge of town with her husband and kids. 96 Miles is her first novel. When not writing, she enjoys teaching guitar the fun way, traveling to new places, and coming back home to the desert.
Praise For…
---
"A suspense thriller, survival story, and a story of the love between brothers. You'll turn the pages and be surprised again and again." —Gary D. Schmidt, Newbery Honor Award-winning author of The Wednesday Wars

"Fast-paced, believable, funny, and poignant. 96 Miles is a great read from the first sentence to the surprising and satisfying ending. I give Esplin's debut novel 100%. Don't miss it!" —Roland Smith, New York Times bestselling author of Peak

"Readers who enjoy realistic survival stories will not be able to put down Esplin's debut…. Filled with survival techniques, danger, and overcoming realistic obstacles, this story will have readers turning pages. A great choice for lovers of Gary Paulsen's Hatchet or Roland Smith's Peak."—School Library Journal

"Esplin offers a richly layered look at the frustrations of sibling rivalry, the depths of family loyalty, and the challenges of forgiveness."—Publishers Weekly

"For readers thirsting for a fresh survival story."—Kirkus Reviews