January Fifteenth (Paperback)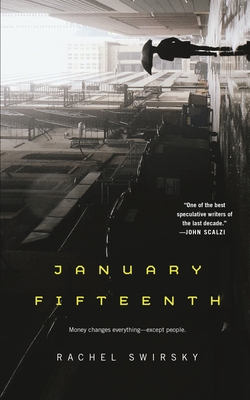 Staff Reviews
---
Gripping speculative fiction about UBI (universal basic income) may sound unlikely, but in the capable hands of Rachel Swirsky, it comes to life. A guaranteed annual income paid out to every citizen changes the lives of the four women in this book. Swirsky brilliantly examines the reality of UBI without sugar-coating it and without letting it get in the way of the story. Money can change a tremendous amount, but it can't change people.
— Lisa
Description
---
"One of the best speculative writers of the last decade."—John Scalzi

January Fifteenth—the day all Americans receive their annual Universal Basic Income payment.

For Hannah, a middle-aged mother, today is the anniversary of the day she took her two children and fled her abusive ex-wife.

For Janelle, a young, broke journalist, today is another mind-numbing day interviewing passersby about the very policy she once opposed.

For Olivia, a wealthy college freshman, today is "Waste Day", when rich kids across the country compete to see who can most obscenely squander the government's money.

For Sarah, a pregnant teen, today is the day she'll journey alongside her sister-wives to pick up the payment­­s that undergird their community—and perhaps embark on a new journey altogether.

In this near-future science fiction novella by Nebula Award-winning author Rachel Swirsky, the fifteenth of January is another day of the status quo, and another chance at making lasting change.
About the Author
---
Rachel Swirsky lives in Portland, Oregon, where she roams happily under overcast skies with the hipsters. She holds an MFA from the Iowa Writers Workshop. Her fiction has appeared in venues including Tor.com, Asimov's, and The Best American Non-Required Reading. Her fiction has been nominated for the Hugo Award, the World Fantasy Award, and the Locus Award, and twice won the Nebula Award. Her books include Placed into Abyss (Mise en Abyse) and A Memory of Wind.
Praise For…
---
"Swirsky's slice-of-life UBI stories present just a few possible effects of this hotly debated topic. Without either political rhetoric or exhortation, these brief glimpses of other lives give readers the chance to see what might be in a world with a social safety net. Highly recommended for readers of political and social science-oriented SF."—Library Journal (starred review)

"[A] thoughtful novel comprising four interwoven stories framed by the near-future implementation of Universal Basic Income. . . .Fans of plausible political speculative fiction should check this out."—Publishers Weekly

"January Fifteenth possesses all the hallmarks of a Swirsky piece—attention to cadence, elevated prose—while offering a quick, accessible read."—Locus

Praise for Rachel Swirsky

"I don't think it's any secret that I think she's one of the best speculative fiction writers of the last decade."— John Scalzi

"Rachel Swirsky is among the most talented science fiction/fantasy short story writers working today–one of the new generation that's transforming the genre through a combination of inspiration, renovation, and fresh approaches."—Jeff VanderMeer

"Rachel's stories are super-smart and gorgeously written. It's [a short blurb], but it has the virtue of being true."—Ann Leckie

"Swirsky's crisp prose and insightful vision draw the reader in, and her work will amply reward both casual reading and close attention."—Publisher's Weekly starred review on How the World Became Quiet