Under the Whispering Door (Hardcover)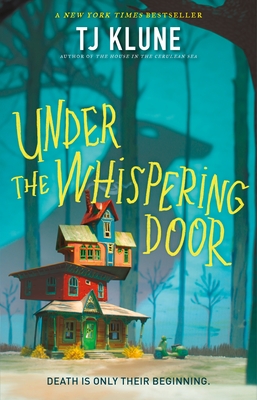 Staff Reviews
---
Is there such a thing as "cozy fantasy"? This is just that - a warm hug of a book filled with wonderful characters and so much heart. Klune is a gem of a writer, and I will read all of his books.
— Suzanna
So sweet and moving; I loved it so much. I loved the characters and the fact that the main character is in his forties, and still got a love story. I teared up so many times! Delectably readable.
— Frederick
This is a book about death and what comes after--which is not what you think. Wallace, a jerk in life, is not about to take his own death lying down. And Hugo, the Ferryman, is not about to give up on him. I couldn't stop reading this charmer!
— Lisa
Living his life as a hardened bully, Wallace Price suddenly finds himself unalive. Here's where his journey begins as he is brought to Charon's Crossing, a quirky teashop in the woods, and the place where the ferryman and other loveable characters help the dead cross over. During his time at the teashop Wallace learns what it truly means to live.
— Carissa
October 2021 Indie Next List
---
"TJ Klune once again delivers an extraordinary, uplifting story of love, family, grief, and redemption. This story and its characters brought me so much comfort and peace. Highly, highly recommended."
— Stacey Montalto, BookTowne, Manasquan, NJ
Description
---
A NEW YORK TIMES, USA TODAY, AND INDIE BESTSELLER
One of Buzzfeed's "Best Books of 2022"!
An Indie Next Pick!
A Locus Awards Top Ten Finalist for Fantasy Novel

A Man Called Ove meets The Good Place in Under the Whispering Door, a delightful queer love story from TJ Klune, author of the New York Times and USA Today bestseller The House in the Cerulean Sea.

Welcome to Charon's Crossing.
The tea is hot, the scones are fresh, and the dead are just passing through.

When a reaper comes to collect Wallace from his own funeral, Wallace begins to suspect he might be dead.

And when Hugo, the owner of a peculiar tea shop, promises to help him cross over, Wallace decides he's definitely dead.

But even in death he's not ready to abandon the life he barely lived, so when Wallace is given one week to cross over, he sets about living a lifetime in seven days.

Hilarious, haunting, and kind, Under the Whispering Door is an uplifting story about a life spent at the office and a death spent building a home.
About the Author
---
TJ KLUNE is the New York Times and USA Today bestselling, Lambda Literary Award-winning author of The House in the Cerulean Sea, The Extraordinaries, and more. Being queer himself, Klune believes it's important—now more than ever—to have accurate, positive queer representation in stories.
Praise For…
---
A NEW YORK TIMES, USA TODAY, AND INDIE BESTSELLER
An Indie Next and LibraryReads Pick!
A Locus Awards Top Ten Finalist for Fantasy Novel
A 2021 LibraryReads Favorite

"There is so much to enjoy in Under the Whispering Door, but what I cherish the most is its compassion for the little things—a touch, a glance, a precious piece of dialogue—healing me, telling me that for all the strangenesses I hold, I am valued, valid—and maybe even worthy of love." —Ryka Aoki, Light from Uncommon Stars

"A warm hug of a book about a Grinch of a man who dies and a ferryman, who helps the dead in their journey onwards. Under the Whispering Door is a kind book, full of faith in the goodness of people, full of kind people showing how compassion is a strength. It broke my heart with its unflinching understanding that grief never goes away, never empties, only settles into the room of your soul like a strange souvenir. And then it healed me in the next breath." —Cassandra Khaw, author of Nothing But Blackened Teeth

"Tenderness, wit, and skillful worldbuilding elevate this delightful tale. Fans of queer fantasy won't want to miss this." —Publishers Weekly

"Is it possible to fall in love with someone's imagination? If so, consider me fully smitten. TJ Klune creates worlds where fear and threat can be conquered by kindness, and a tender, queer heart is more valuable than any weapon or power." —David Levithan

"The latest by Lambda Literary Award winner Klune is a winning story about grief, loss, and moving on. Readers will cry and be charmed by his wonderful characters." —Library Journal

"Klune's latest is a sweet tale of grief and second chances, and a ghost story about not giving up on even the most lost of souls." —Booklist

"TJ Klune is a master storyteller." —The Mary Sue

"TJ Klune is doing powerful work that inspires and impresses. He is a gift to our troubled times, and his novels are a radiant treat to all who discover them." —Locus

Praise for The House in The Cerulean Sea
A NEW YORK TIMES, USA TODAY, and WASHINGTON POST BESTSELLER!
A 2021 Alex Award winner!
An Indie Next Pick!
One of Publishers Weekly's "Most Anticipated Books of Spring 2020"
One of Book Riot's "20 Must-Read Feel-Good Fantasies"

"I loved it. It is like being wrapped up in a big gay blanket. Simply perfect." —V.E. Schwab, #1 New York Times bestselling author

"It will renew your faith in humanity." —Terry Brooks, New York Times bestselling author of the Shannara series

"It's a witty, wholesome fantasy that's likely to cause heart-swelling." —The Washington Post

"The House in The Cerulean Sea is a modern fairy tale about learning your true nature and what you love and will protect. It's a beautiful book." —Charlaine Harris, #1 New York Times bestselling author

"1984 meets The Umbrella Academy with a pinch of Douglas Adams thrown in. Touching, tender, and truly delightful, The House in the Cerulean Sea is an utterly absorbing story of tolerance, found family, and defeating bureaucracy."—Gail Carriger, New York Times bestselling author of Soulless

"Sweet, comforting, and kind, this book is very close to perfect. The House in the Cerulean Sea is a work of classic children's literature written for adults and children alike, with the perspective and delicacy of the modern day. I cannot recommend it highly enough." —Seanan McGuire, New York Times bestselling author of Every Heart a Doorway

"Quirk and charm give way to a serious exploration of the dangers of complacency in this delightful, thought-provoking Orwellian fantasy from Klune.... This tale of found family is hopeful to its core. Readers will revel in Klune's wit and ingenuity." —Publishers Weekly (starred review)

"Lambda Literary Award-winning author Klune (The Art of Breathing, 2019, etc.) has a knack for creating endearing characters, and readers will grow to love Arthur and the orphans alongside Linus... fans of quirky fantasy will eat it up. A breezy and fun contemporary fantasy." —Kirkus

"This is a sweet narrative about the value of asking questions and the benefits of giving people (especially children) a chance to be safe, protected, and themselves, regardless of what assumptions one might glean from, say, reading their case file." —Booklist

"This inclusive fantasy is quite possibly the greatest feel-good story ever to involve the Antichrist.... The House in the Cerulean Sea will delight fans of Seanan McGuire's Wayward Children series and any reader looking for a burst of humor and hope." —Shelf Awareness

"A delightful tale about chosen families, and how to celebrate differences." —Library Journal

"If ever there was an author to watch out for, [Klune] is definitely that author." —Culturess Daily