The Monster of Elendhaven (Hardcover)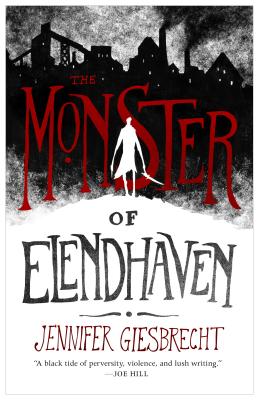 Staff Reviews
---
A deliciously dark fantasia that will appeal to fans of the Dishonored and Bioshock franchises. Fantasy readers shouldn't miss out on this violent, delightful treat.
— Nicole
It seems impossible that a book so elegantly written could be a debut novel. Jennifer Giesbrecht has instantly become one of my favorite authors of all time thanks to The Monster of Elendhaven. I cannot recommend this book strongly enough.
— Sean
Description
---
"A black tide of perversity, violence, and lush writing. I loved it." —Joe Hill

A Finalist for the 2019 Shirley Jackson Award!

Debut author Jennifer Giesbrecht paints a darkly compelling fantasy of revenge in The Monster of Elendhaven, a dark fantasy about murder, a monster, and the magician who loves both.

The city of Elendhaven sulks on the edge of the ocean. Wracked by plague, abandoned by the South, stripped of industry and left to die. But not everything dies so easily. A thing without a name stalks the city, a thing shaped like a man, with a dark heart and long pale fingers yearning to wrap around throats. A monster who cannot die. His frail master sends him out on errands, twisting him with magic, crafting a plan too cruel to name, while the monster's heart grows fonder and colder and more cunning.

These monsters of Elendhaven will have their revenge on everyone who wronged the city, even if they have to burn the world to do it.
About the Author
---
JENNIFER GIESBRECHT is a native of Halifax, Nova Scotia where she earned an undergraduate degree in History, spent her formative years as a professional street performer, and developed a deep and reverent respect for the ocean. She currently works as a game writer for What Pumpkin Studios. In 2013 she attended the Clarion West Writers Workshop. Her work has appeared in Nightmare Magazine, XIII: 'Stories of Resurrection', Apex, and Imaginarium: The Best of Canadian Speculative Fiction. She lives in a quaint, historic neighbourhood with two of her best friends and five cats. The Monster of Elendhaven is her first book.
Praise For…
---
"Jennifer Giesbrecht's The Monster of Elendhaven is a black tide of perversity, violence, and lush writing. I loved it." —Joe Hill, #1 New York Times Bestselling Author of The Fireman, N0S4A2, and Horns

"Pitch dark, whimsical, topical, wild, and lushly written, Jennifer Giesbrecht's The Monster of Elendhaven is the most reading fun you'll have this year." —Paul Tremblay, author of The Cabin at the End of the World and A Head Full of Ghosts

"I read The Monster of Elendhaven in a single vicious, delightful bite. What a dark gem of a book." —Kiersten White, New York Times Bestselling Author

"A tight, perfectly crafted story about retribution and what monsters deserve; stylish, quirky, and weirdly sexy? I'm into it." —R. F. Kuang

"Elendhaven is as fully formed as Mervyn Peake's "Gormenghast" series with truly repellent characters who don't possess a shred of moral fiber. Yet the right readers will still love them, as newcomer Giesbrecht is a fantasy writer to watch with a sure command of her world." —Library Journal Starred Review

"Gorily gothic, darkly baroque, rotten with magic and shot with shafts of wicked humor, The Monster of Elendhaven is a perfect nightmare." —Margo Lanagan, author of The Bridges of Rollrock Island

"Giesbrecht's words don't ask, they don't wonder, they don't hope or plead or bargain. They command you to have the experience that she knows you will have, to see what she knows you will see." —Andrew Hussie, creator of Homestuck

"Jennifer Giesbrecht's The Monster of Elendhaven is a gothic delight, dark as an oil-slick and iridescent with feral humour, bruise-violet prose, and a fascinatingly depraved tragic romance." —Indrapramit Das, author of The Devourers

"Delicate, jagged, and unrepentant, The Monster of Elendhaven has the linguistic febrility of Peake and the brutal sentiment of a gothic, perfectly framed in a secondary-world Hanseatic League setting that is as unusual as it is compelling." —Arkady Martine, author of A Memory Called Empire

"Horror fans will want to grab this one — Giesbrecht has an extremely compelling voice." —Kat Howard, author of An Unkindness of Magicians

"The Monster of Elendhaven is so much more than it seems. In Giesbrecht's deft hands, it's a compelling, psychologically gripping tale of lust and revenge, told in parallel, twisting narratives that ingeniously leave the reader sympathizing with the most horrible people imaginable." —Grimdark Magazine