You Have a Match: A Novel (Hardcover)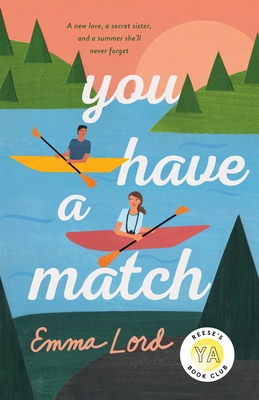 Winter 2020 Kids Indie Next List
---
"I love Emma Lord! Her debut, Tweet Cute, was an adorable and wonderfully fun book. You Have a Match is the perfect follow-up! Abby has a reasonably normal life. Friends, family, brothers, school, a crush. When she decides to do a DNA test, Abby's entire world is upended as she discovers an older sister that she had no idea existed. Why did her parents give Savannah up for adoption? Is it too late to reconcile with Abby's best friend and crush? Will Abby be able to weather these shifts in her life? Only time, and summer camp, will reveal the answers. I absolutely adored this book and can't wait to read more from Emma!"
— Annie Carl, The Neverending Bookshop, Edmonds, WA
Description
---
INSTANT NEW YORK TIMES BESTSELLER
A REESE'S BOOK CLUB WINTER YA PICK

A new love, a secret sister, and a summer she'll never forget.

From the beloved author of Tweet Cute comes Emma Lord's You Have a Match, a hilarious and heartfelt novel of romance, sisterhood, and friendship...

When Abby signs up for a DNA service, it's mainly to give her friend and secret love interest, Leo, a nudge. After all, she knows who she is already: Avid photographer. Injury-prone tree climber. Best friend to Leo and Connie…although ever since the B.E.I. (Big Embarrassing Incident) with Leo, things have been awkward on that front.

But she didn't know she's a younger sister.

When the DNA service reveals Abby has a secret sister, shimmery-haired Instagram star Savannah Tully, it's hard to believe they're from the same planet, never mind the same parents — especially considering Savannah, queen of green smoothies, is only a year and a half older than Abby herself.

The logical course of action? Meet up at summer camp (obviously) and figure out why Abby's parents gave Savvy up for adoption. But there are complications: Savvy is a rigid rule-follower and total narc. Leo is the camp's co-chef, putting Abby's growing feelings for him on blast. And her parents have a secret that threatens to unravel everything.

But part of life is showing up, leaning in, and learning to fit all your awkward pieces together. Because sometimes, the hardest things can also be the best ones.

"A YA contemporary set at summer camp? Count us in." —BuzzFeed

"Heartfelt and engaging, You Have a Match is a masterclass on love in all its forms." —Sophie Gonzales, author of Only Mostly Devastated and Perfect on Paper

"A bright summer tale of connection and self-discovery." —Booklist

"A cute, feel-good coming-of-age story." —Kirkus
About the Author
---
Emma Lord is a digital media editor and writer living in New York City, where she spends whatever time she isn't writing either running or belting show tunes in community theater. She graduated from the University of Virginia with a major in psychology and a minor in how to tilt your computer screen so nobody will notice you updating your fan fiction from the back row. She was raised on glitter, a whole lot of love, and copious amounts of grilled cheese.
Praise For…
---
"Heartfelt and engaging, You Have a Match is a masterclass on love in all its forms." —Sophie Gonzales, author of Only Mostly Devastated and Perfect on Paper

"A bright summer tale of connection and self-discovery." - Booklist

"I absolutely adored this book!" —Annie Carl, The Neverending Bookshop, Edmonds, WA, ABA Winter Pick
We appreciate your continued support!
If you would like to make a donation to help us through CLICK HERE.