Nettle & Bone (Hardcover)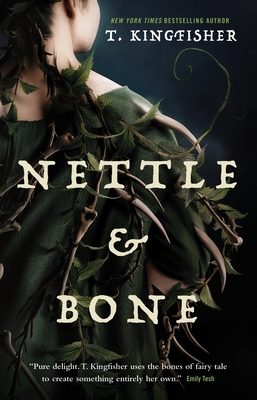 $26.99

Available in our Warehouse: Usually Ships in 3-8 Days
Staff Reviews
---
The rules of fairy tales can be bent and broken, if your will is strong enough. This powerhouse takes well-known tropes and flips them on their head, reminding readers that, even if you feel like a side character, you have agency in your story... and you have the strength. A must-read for fans of Seanan McGuire and Alix E. Harrow.
— Nicole
Utterly unique. A little horror, a little humor, a little fairytale-ish. Had me guessing until the very end. Loved it!
— Lisa
May 2022 Indie Next List
---
"I don't know how I lived this long without T. Kingfisher. Nettle & Bone has everything: a princess on a quest, a goblin market, a fairy godmother, a demon chicken (wait, what!). It's fresh, funny, touching, and wonderfully well written."
— Kathy Magruder, Pageturners Bookstore, Indianola, IA
Description
---
Winner of the Hugo Award for Best Novel
An Instant USA Today & Indie Bestseller
An Oprah Daily Top 25 Fantasy Book of 2022
A Vulture Best Fantasy Novel of 2022
An NPR Best Sci Fi, Fantasy, & Speculative Fiction Book of 2022
A Goodreads Best Fantasy Choice Award Nominee

From Hugo, Nebula, and Locus award-winning author T. Kingfisher comes an original and subversive fantasy adventure.

*The very special hardcover edition features a gold foil stamp on the casing and custom endpapers illustrated by the author.*

This isn't the kind of fairy tale where the princess marries a prince.

It's the one where she kills him.

Marra — a shy, convent-raised, third-born daughter — is relieved not to be married off for the sake of her parents' throne. Her older sister wasn't so fortunate though, and her royal husband is as abusive as he is powerful. From the safety of the convent, Marra wonders who will come to her sister's rescue and put a stop to this. But after years of watching their families and kingdoms pretend all is well, Marra realizes if any hero is coming, it will have to be Marra herself.

If Marra can complete three impossible tasks, a witch will grant her the tools she needs. But, as is the way in stories of princes and the impossible, these tasks are only the beginning of Marra's strange and enchanting journey to save her sister and topple a throne.

"Wholly entertaining."—Buzzfeed

"A modern classic."—Seanan McGuire, New York Times bestselling author of Every Heart A Doorway

"Pure delight. T. Kingfisher uses the bones of fairy tale to create something entirely her own."—Emily Tesh, award-winning author of Silver in the Wood

Also by T. Kingfisher
Thornhedge
A Sorceress Comes to Call
What Moves the Dead
What Feasts at Night
A House with Good Bones
About the Author
---
T. KINGFISHER (she/her) writes fantasy, horror, and occasional oddities, including Nettle & Bone, What Moves the Dead, and A House with Good Bones. Under a pen name, she also writes bestselling children's books. She lives in North Carolina with her husband, dogs, and chickens who may or may not be possessed.
Praise For…
---
"Deeply satisfying and darkly funny feminist fairytale. . . . At its heart a story of good people doing their best to make the unjust world a fairer place, this marvelous romp will delight Kingfisher's fans and fairytale lovers alike."—Publishers Weekly, STARRED review

"Blending fairy-tale familiarity and common-sense characters, Kingfisher's prose balances grim circumstances with humor and heart. Readers of Alix E. Harrow's A Spindle Splintered and Melissa Albert's 'The Hazel Wood' series should pick this up immediately."—Library Journal, STARRED review

"Kingfisher's combination of comedy with feminist rage in a complex fairytale setting makes for a wholly entertaining read."—Buzzfeed

"Kingfisher is an inventive fantasy powerhouse, and Nettle & Bone represents the burgeoning 'hopepunk' ethos at its finest, with its winsome characters and focus on their fight to make the world a better place."—Bookpage, STARRED review

"Clever and bold-hearted . . . this rollicking feminist fairy tale is filled with redemption, community and courage, its dark passages the road to a satisfyingly uplifting endgame."—Shelf Awareness, STARRED review

"Nettle & Bone is full of delights and surprises—and proves that [Kingfisher] has more than a few tricks left up her sleeve."—Locus

"Nettle & Bone leans into the macabre and evokes the Grimm-est of stories... Highly recommended for fans of fractured fables like Naomi Novik's Uprooted (2015) and Helen Oyeyemi's Gingerbread (2019)."—Booklist, STARRED review

"With Nettle & Bone, T. Kingfisher solidifies her place as natural and inevitable heir to the greats of her genre, while remaining clearly and unquestionably a unique voice in fantasy. This book is a modern classic and belongs alongside The Last Unicorn and Spinning Silver on your shelf."—Seanan McGuire, New York Times bestselling author of Every Heart a Doorway

"Nettle & Bone is what happens when all the overlooked bit players of classic fantasy somehow wind up on the main quest. It's funny, frightening, and full of heart; I loved it."—Alix E. Harrow, New York Times bestselling author of The Ten Thousand Doors of January

"Kingfisher is a master. Nettle & Bone is a wonderful entwining of darkness & whimsy—witty and brutal and hilarious and true in all the ways that matter. Also, I must immediately have my very own Bonedog."—Travis Baldree, New York Times bestselling author of Legends & Lattes

"Nettle & Bone brings Kingfisher's signature honesty and authenticity to a fairy tale setting—the result is refreshing, earnest but not naive, and deeply satisfying. I devoured it. This is one that's going to stay with me for a long time."—Sarah Gailey, author of Magic for Liars

"Witty, sparkling tale of a heroine's quest, full of matter-of-fact magic, impossible tasks, and a group of fantastic and charming companions. A delight throughout."—Louisa Morgan, author of A Secret History of Witches

"Nettle & Bone is pure delight. T. Kingfisher uses the bones of fairy tale to create something entirely her own, written in gloriously clear and transparent prose. I devoured this story of a princess-nun rescuing her sister from an abusive marriage, and every fresh turn delighted me."—Emily Tesh, award-winning author of Silver in the Wood

"Nettle & Bone is the kind of book that immediately feels like an old friend. Fairytale mythic resonance meets homey pragmatism in this utterly delightful story. It's creepy, funny, heartfelt, and full of fantastic characters I absolutely loved!"—Melissa Caruso, author of The Tethered Mage

"This book is so exciting, deeply wise, sad, brutal and compassionate all at once. And beautifully written, with a plot as cunning as fine embroidery. . . . When I finished I could hardly bear to tear myself away from this eerie, vivid world, with its struggling, flawed, wonderful characters."—Catriona Ward, author of Last House on Needless Street

"Charming and macabre—often both at the same time—Nettle & Bone has bite, proper jokes, effortlessly good storytelling and a really wonderful tomb labyrinth."—A. K. Larkwood, author of The Unspoken Name

"Somehow, Kingfisher writes stories that put you at your ease and make you want to crawl out of your skin at the same time. I loved the way this horrified me—and, in the end, gave me hope."—Kevin Hearne, New York Times bestselling author of the Iron Druid Chronicles