Long Time Coming: Reckoning with Race in America (Hardcover)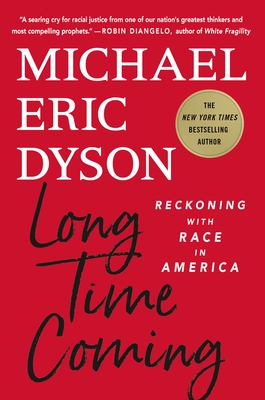 $25.99
This item is not currently available to order.
Staff Reviews
---
What a nuanced, thoughtful, raw book. Written in letters to Black folks murdered in America over the past decade, these observations on how the intersections of history and culture create our world are stunning. (The section "Seeing Red" may be one of the strongest chapters I've read in a nonfiction book recently.) Fantastic on audio!
— Nicole
Description
---
AN INSTANT NATIONAL BESTSELLER and NAACP IMAGE AWARD NOMINEE

From the New York Times bestselling author of Tears We Cannot Stop, a passionate call to America to finally reckon with race and start the journey to redemption.

"Powerfully illuminating, heart-wrenching, and enlightening." -Ibram X. Kendi, bestselling author of How to Be an Antiracist

"Crushingly powerful, Long Time Coming is an unfiltered Marlboro of black pain." -Isabel Wilkerson, bestselling author of Caste

"Formidable, compelling...has much to offer on our nation's crucial need for racial reckoning and the way forward." -Bryan Stevenson, bestselling author of Just Mercy

The night of May 25, 2020 changed America. George Floyd, a 46-year-old Black man, was killed during an arrest in Minneapolis when a white cop suffocated him. The video of that night's events went viral, sparking the largest protests in the nation's history and the sort of social unrest we have not seen since the sixties. While Floyd's death was certainly the catalyst, (heightened by the fact that it occurred during a pandemic whose victims were disproportionately of color) it was in truth the fuse that lit an ever-filling powder keg.

Long Time Coming grapples with the cultural and social forces that have shaped our nation in the brutal crucible of race. In five beautifully argued chapters—each addressed to a black martyr from Breonna Taylor to Rev. Clementa Pinckney—Dyson traces the genealogy of anti-blackness from the slave ship to the street corner where Floyd lost his life—and where America gained its will to confront the ugly truth of systemic racism. Ending with a poignant plea for hope, Dyson's exciting new book points the way to social redemption. Long Time Coming is a necessary guide to help America finally reckon with race.
About the Author
---
MICHAEL ERIC DYSON—Distinguished University Professor of African American and Diaspora Studies, College of Arts & Science, and of Ethics and Society, Divinity School, and NEH Centennial Chair at Vanderbilt University—is one of America's premier public intellectuals and the author of numerous New York Times bestsellers including Tears We Cannot Stop, What Truth Sounds Like, JAY-Z, and Long Time Coming. A winner of the 2018 nonfiction Southern Book Prize, Dr. Dyson is also a recipient of two NAACP Image awards and the 2020 Langston Hughes Festival Medallion. Former president Barack Obama has noted: "Everybody who speaks after Michael Eric Dyson pales in comparison."
Praise For…
---
ON The Washington Post's 10 BOOKS TO READ IN DECEMBER | LitHub's 12 NEW BOOKS TO BUY FROM YOUR LOCAL INDIE TODAY | HuffPost's 10 OF THE MOST ANTICIPATED BOOK RELEASES OF DECEMBER 2020 | Bridge Michigan's 15 ANTI-RACIST MICHIGAN BOOKS TO GET YOU THROUGH THE HOLIDAYS AND QUARANTINE

"The ostensible purpose of Long Time Coming, organized as a string of letters, is to explain what led to the unrest that swept the nation last summer after George Floyd's killing and what should be done to address it. But Dyson's grander purpose, perhaps, is to bare the deep wounds left by generations of White-authored violence. He wants readers to feel that pain." —Michael A. Fletcher, The Washington Post

"The writing is smart and the research that informs it is great, but what makes this is an important book is Dyson's voice, which is strong but always pregnant with frustration, pain, admiration and, ultimately, hope." —NPR Book Review

"[Dyson] is rarely afraid to call out bigotry. In his new book, he imagines what it would be like if victims of racism, police brutality or gang violence had not lost their lives. Each chapter is a letter to what he calls the martyrs of the struggle." —NPR

"Dyson's formidable twenty-third book probes this tragic notion about the violent silencing of the martyred, with Dyson hosting a poignant conversation...elegantly argued..." —Adrienne Westenfeld, Esquire

"A sweeping overview of racism in America … A timely, fervent message from an important voice." —Kirkus Reviews

"Dyson provides valuable historical and sociopolitical context in his vivid descriptions ... Rich with feeling and insight, this elegiac account hits home." —Publisher's Weekly

"Michael Eric Dyson is one of the nation's most thoughtful and critical thinkers in social inequality and the demands of justice. Long Time Coming, his latest formidable, compelling book, has much to offer on our nation's crucial need for racial reckoning and the way forward." —Bryan Stevenson, author of Just Mercy

"Michael Eric Dyson's Long Time Coming: Reckoning with Race in America, is a brilliant and fiercely eloquent work that traces the roots of racism from slavery and Jim Crow to police brutality and the plague of Black killings in our own day. In gorgeous prose and erudite analysis, Dyson argues that both the trap of white comfort and the peril of cancel culture thwart a genuine reckoning with race in our country. Long Time Coming is a searing cry for racial justice from one of our nation's greatest thinkers and most compelling prophets." —Robin DiAngelo, bestselling author of White Fragility: Why It's So Hard for White People to Talk About Racism

"One of the country's most prominent scholars on race has a new book" —AP News

"Dyson's eloquent, exacting, and consequential scrutiny of 'the racial calamity at the heart of our democracy' is a catalyst for discussion and continued calls for justice, a work essential to the struggle to achieve insight, genuine change, and healing." —Booklist, starred review

"In Long Time Coming, social commentator Dyson traces the history of antiblack sentiment that culminated in this reckoning with America's oldest sin." —AARP Sisters Newsletter