Homicide: The Graphic Novel, Part One (Hardcover)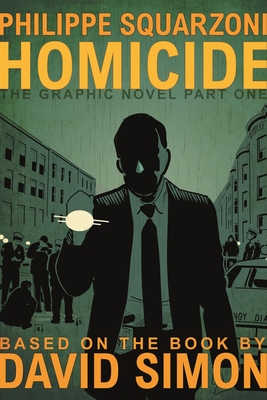 $29.99

Coming Soon - Available for Pre-Order Now
Description
---
Homicide, the celebrated true crime-book from the creator of HBO's The Wire, is reenvisioned in this first volume of a gritty, cinematic graphic novel duology.

In 1988, journalist David Simon was given unprecedented access to the Baltimore Police Department's homicide unit. Over the next twelve months, he shadowed detectives as they took on a slew of killings in a city where killings were common. Only the most heinous cases stood out–chief amongst them, the rape and murder of eleven-year-old Latonya Wallace.

Originally published in 1991, Simon's Homicide became the basis for the acclaimed television show Homicide: Life on the Streets and inspired HBO's The Wire. Now, this true-crime classic is reimagined as a gritty two-part graphic novel series.
About the Author
---
David Simon is a Baltimore-based journalist, author and television producer. A former crime reporter for the Baltimore Sun, he is the creator of the celebrated HBO series The Wire, which depicts the political and socioeconomic fissures in an American city. His other television credits include the NBC drama Homicide and HBO's The Corner, Generation Kill, Treme, Show Me A Hero, The Deuce, and The Plot Against America. The author of two books of narrative nonfiction, "Homicide" and "The Corner," Simon is a 2010 MacArthur Fellow.

Philippe Squarzoni spent most of his childhood in Ardèche and the island of Réunion, France. He has traveled internationally to participate in several humanitarian and anti-war campaigns. The author of many political graphic novels, his work includes Garduno, en temps de paix, Zapata, en temps de guerre, Dol, Un après-midi un peu couvert, and Saison brune, which received the Jury Prize at the Festival de Lyon and the Prix Léon de Rosen from the Académie française for its contribution to environmental awareness. Saison brune was later published in English as Climate Changed: A Personal Journey Through the Science.