The Book Eaters (Hardcover)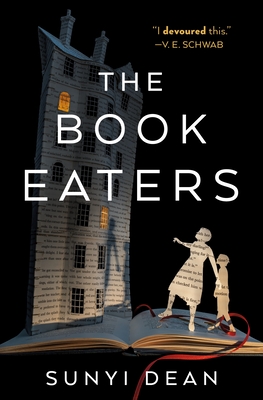 Staff Reviews
---
Moving, thrilling, and totally engrossing. This is a story about monsters and motherhood and the corrosive effect of "tradition."
— Lisa
"Her children were fires who needed fuelling; she would burn anything and everything to keep them going." For Devon, love is a choice she keeps making; the cost of that choice is beside the point. In this fairytale-esque book, you'll find knights and dragons and princesses, none of them what you expect; people who eat books but fail to break out of the molds set for them; and one incredible woman who chooses something different. Utterly unique, and not to be missed!
— Frederick
August 2022 Indie Next List
---
"How far will a mother go to protect a son that is hungering for more than books? Sunyi Dean's work of fantasy is frighteningly real. Think Hannibal Lecter: sit back, grab 'a nice dry Chianti,' and get ready to devour this debut masterpiece."
— Bill Reilly, The River's End Bookstore, Oswego, NY
Description
---
Sunyi Dean's The Book Eaters is "a darkly sweet pastry of a book about family, betrayal, and the lengths we go to for the ones we love. A delicious modern fairy tale."— Christopher Buehlman, Shirley Jackson Award-winning author

Truth is found between the stories we're fed and the stories we hunger for.

Out on the Yorkshire Moors lives a secret line of people for whom books are food, and who retain all of a book's content after eating it. To them, spy novels are a peppery snack; romance novels are sweet and delicious. Eating a map can help them remember destinations, and children, when they misbehave, are forced to eat dry, musty pages from dictionaries.

Devon is part of The Family, an old and reclusive clan of book eaters. Her brothers grow up feasting on stories of valor and adventure, and Devon—like all other book eater women—is raised on a carefully curated diet of fairy tales and cautionary stories.

But real life doesn't always come with happy endings, as Devon learns when her son is born with a rare and darker kind of hunger—not for books, but for human minds.
About the Author
---
Sunyi Dean is an autistic author of fantasy fiction. The Book Eaters is her debut novel. Originally born in the States and raised in Hong Kong, she now lives in Yorkshire with her children. When not reading, running, falling over in yoga, or rolling d20s, she sometimes escapes the city to wildswim in lonely dales.
Praise For…
---
"I devoured this."—V. E. Schwab, NYT bestselling author of The Invisible Life of Addie La Rue

"Raw and imaginative, this gritty, gothic anti-fairytale knows the truth: love will make a villain out of anyone."—Olivie Blake, New York Times bestselling author of The Atlas Six

"A delightfully weird exploration of motherhood, queerness, and escaping patriarchal norms."—Buzzfeed

"Innovative, unique, poignant, and told with a voice as original as the story itself. I finished this novel in that one sitting, yet I'll be pondering it for a long time to come. This is the debut of a new master of the modern fantasy. Don't miss it."—James Rollins, #1 New York Times bestseller of The Starless Crown

"This beautiful, delicate, cruel, utterly unique look at tradition, motherhood, trauma, and what it means to be a monster would be a masterpiece from an established author. As a debut, it is nothing short of stunning. It kept surprising me all the way to the end."—Seanan McGuire, New York Times bestselling author of Every Heart A Doorway

"A powerful story of overwhelming mother love, as something both powerful and potentially horrific. It's a book that delves into the need to survive even when a system is built to break you or determined to crush you; a powerful queer story about difference that refuses to flinch away from difficult choices or the impact of trauma, both generational and inflicted. Readers will devour this compelling, rich fantasy."—Booklist, starred review

"Dean's unputdownable debut gives the phrase "voracious reader" a new, very literal meaning ... The fascinating magic system, impeccable and unusual worldbuilding, and well-shaded characters will keep readers riveted through every twist of this wild ride."—Publishers Weekly, starred review

"A darkly sweet pastry of a book about family, betrayal, and the lengths we go to for the ones we love. Great reading for a rainy morning, with tea or coffee on, a cat in your lap, and nowhere to be but lost in a delicious modern fairy tale."—Christopher Buehlman, author of The Blacktongue Thief

"Dark and incredibly compelling—I could not put this book down. All about motherhood and monsters, and twists the knife on every page."—Everina Maxwell, author of Winter's Orbit

"An entrancing tale that explores the ways that love can both strengthen and destroy us. It had me on the edge of my seat right up until the end. The Book Eaters is one you'll want to sink your teeth into."—Genevieve Gornichec, author of The Witch's Heart

"A exquisitely-crafted tale of those who break free of the stories written for them and forge their own in ink and blood. I couldn't put it down."—H.G. Parry, author of The Unlikely Escape of Uriah Heep

"Two delicious timelines weave a thriller-paced tale ... It peels back the pampering veneer of fairytales and tradition to trauma beneath, with a rich, nuanced look at grey morality and motherhood. Full of heart and hurt, you'll want to consume The Book Eaters in one sitting."—Essa Hansen, author of Nophek Gloss

"Sunyi Dean is a master of pace and foreshadowing, and keeps the reader on the edge of their seat from the first page to the last. THE BOOK EATERS is gorgeously written, the kind of novel that stays with you long after you finish reading it."—Michael Mammay, author of The Planetside series

"A gloriously Gothic contemporary horror fantasy, perfect for fans of Neil Gaiman and Tanith Lee."—Peter McLean, author of Priest of Bones

"A fascinating debut with shades of gothic fantasy and contemporary thriller, wrapped in a narrative full of vivid and detailed characters and worldbuilding, and an unusual premise."—Library Journal, starred review

"A gripping and beautifully plotted story told with verve and deliciously dark wit."—The Daily Mail