The Flag, the Cross, and the Station Wagon: A Graying American Looks Back at His Suburban Boyhood and Wonders What the Hell Happened (Hardcover)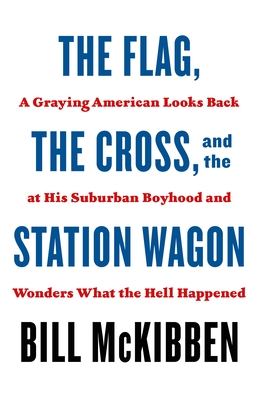 $27.99
This item is not currently available to order.
Staff Reviews
---
Having spent much of my childhood and teens in the white liberal suburbs, I shared many of the same misconceptions Bill McKibben had. It was many decades before I understood that "freedom and justice for all" meant freedom and justice for educated, white, men, preferably land owners. It was a rude awakening for me and for McKibben. This is a powerful reckoning because it is so personal and hopeful (despite everything).
— Lisa
Description
---
One of the New Yorker's Best Books of 2022

Bill McKibben—award-winning author, activist, educator—is fiercely curious.

"I'm curious about what went so suddenly sour with American patriotism, American faith, and American prosperity."

Like so many of us, McKibben grew up believing—knowing—that the United States was the greatest country on earth. As a teenager, he cheerfully led American Revolution tours in Lexington, Massachusetts. He sang "Kumbaya" at church. And with the remarkable rise of suburbia, he assumed that all Americans would share in the wealth.

But fifty years later, he finds himself in an increasingly doubtful nation strained by bleak racial and economic inequality, on a planet whose future is in peril.

And he is curious: What the hell happened?

In this revelatory cri de coeur, McKibben digs deep into our history (and his own well-meaning but not all-seeing past) and into the latest scholarship on race and inequality in America, on the rise of the religious right, and on our environmental crisis to explain how we got to this point. He finds that he is not without hope. And he wonders if any of that trinity of his youth—The Flag, the Cross, and the Station Wagon—could, or should, be reclaimed in the fight for a fairer future.
About the Author
---
Bill McKibben is the author of more than a dozen books, including the best sellers Falter, Deep Economy, and The End of Nature, which was the first book to warn the general public about the climate crisis.

He is the Schumann Distinguished Scholar in Environmental Studies at Middlebury College and the winner of the Gandhi Prize, the Thomas Merton Prize, and the Right Livelihood Prize, sometimes called "the alternate Nobel." He lives in Vermont with his wife, the writer Sue Halpern. He founded the global grassroots climate campaign 350.org; his new project, organizing people over sixty for progressive change, is called Third Act.
Praise For…
---
"If we survive the interlocking plagues of climate change, right-wing authoritarianism, and savage inequality, future generations will utter the name of the New England moral visionary and activist McKibben with the reverence we speak of Emerson, Thoreau, and Garrison. This sparkling little diamond of a book illuminates the all-American boyhood and education of a radical Christian environmentalist in love with a broken world that, frankly speaking, may or may not exist at all a century from now. May McKibben's golden pen continue to flow swiftly and conquer—with both love and reason—the dangerous enemies of human civilization."
—Rep. Jamie Raskin (MD-8)

"This is a book that every American who cares about democracy and truth needs to read. . . So much went wrong over the fifty-plus years McKibben traces, and he follows the lines with care and sympathy."
—HBT News

"Plainspoken, direct, conversational, and inspiring, Bill McKibben offers us generous insight into who he is and how he has been shaped by his middle-class upbringing in the suburbs. We see through inner and outer choices, struggles, and influences, why one of the world's most effective and humble leaders in the climate justice movement committed himself to an activist's life on behalf of a warming planet. The Flag, the Cross, and the Station Wagon is more than a memoir, it is a bow to the power of social justice movements and a smart and savvy historical reflection on what has brought us to this crucible moment of climate collapse. Bill McKibben is an every-day hero who continues to show us not only what is possible, but necessary to our survival, the survival of our democracy, and all life in the places we call home."
—Terry Tempest Williams, author of Erosion: Essays of Undoing

"What went wrong with America in the 1970s? In this searching book, Bill McKibben wrestles with a generation that lost its way, and why, and how to find the way back."
—Jill Lepore, author of These Truths: A History of the United States

"Bill McKibben has written a great American memoir, using the prism of his own life to reflect on the most important dynamics in our society. Bill McKibben's writing is poignant, engrossing and revealing. His message is a clarion call for a generation to understand what happened to their American Dream, and to fight for our common future."
—Heather McGhee, author of The Sum of Us: How Racism Costs Everyone and How We Can Prosper Together

"Bill McKibben is such a heroic and consequential leader in the fight for the climate on behalf of all humankind, it's easy to lose sight of his humanity. As usual, this book is a thoughtful critique of wrong turns America has taken, but this time refreshingly and revealingly intertwined with his personal story. As a fellow former suburban boy who has also tried hard to figure out 'what the hell happened,' The Flag, the Cross, and the Station Wagon was like listening to a wise old pal preach."
—Kurt Andersen, author of Evil Geniuses: The Unmaking of America

"McKibben's formative experiences, described so elegantly here, led him to devote himself to 'a life fighting battles that can't be won.' But he will not quit. The final chapter pins the tail on the donkey, our nation's prosperous boomer generation ('the first generation to leave the world a worse place than we found it'), who now must pay for the epic deficits created during the forty-year Reagan wrong-way revolution. He ends with a plea to his fellow boomers who 'have the chance to partially redeem some sense of our history as Americans... This kind of redemption rests not on suppressing the truth of our past, but in engaging and overcoming it.' Amen, preacher McKibben. Amen."
—Rain Taxi Review of Books

"Throughout this book, McKibben harnesses statistics that leap off the page. These have a very different impact from data in bureaucratic reports or a typical news bulletin, because he provides his documentation in combination with stories."
—Seven Days

"We do inhabit the same world, after all, and to see it for a while through Bill McKibben's eyes is good medicine."
—First Things

"The prolific writer and activist finds some of the causes of our societal meltdown in the idyllic suburbs of his youth. . . . McKibben capably picks apart long-ago history to find present themes."
—Kirkus Reviews

"Adept at factual storytelling and connecting the dots, earnest, caring, and funny, McKibben dovetails personal reckonings with an astute elucidation of our social justice and environmental crises, arguing wisely that facing the truth about our past is the only way forward to a more just and sustainable future."
—Booklist, starred review