What Moves the Dead (Hardcover)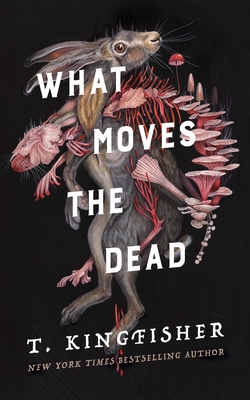 Staff Reviews
---
This retelling of The Fall of the House of Usher is the perfect Gothic horror story. Creeping dread, uncanny animals, veterans who have seen too much and are still not prepared for what awaits them. Inventive, unsettling, and a blast to read.
— Frederick
July 2022 Indie Next List
---
"Rarely do I come across horror novels with such witty and delightful characters. The dialogue made me want to sit down to tea with each person, but the creepy gothic atmosphere made me want to forgo the tea and run away screaming instead."
— Anna Hersh, Wild Rumpus, Minneapolis, MN
Description
---
An instant USA Today & Indie bestseller

From T. Kingfisher, the award-winning author of The Twisted Ones, comes What Moves the Dead, a gripping and atmospheric retelling of Edgar Allan Poe's classic "The Fall of the House of Usher."

*A very special hardcover edition, featuring foil stamp on the casing and custom endpapers illustrated by the author.*

When Alex Easton, a retired soldier, receives word that their childhood friend Madeline Usher is dying, they race to the ancestral home of the Ushers in the remote countryside of Ruritania.

What they find there is a nightmare of fungal growths and possessed wildlife, surrounding a dark, pulsing lake. Madeline sleepwalks and speaks in strange voices at night, and her brother Roderick is consumed with a mysterious malady of the nerves.

Aided by a redoubtable British mycologist and a baffled American doctor, Alex must unravel the secret of the House of Usher before it consumes them all.
About the Author
---
T. KINGFISHER (she/her) writes fantasy, horror, and occasional oddities, including The Twisted Ones and Swordheart. Under a pen name, she also writes bestselling children's books. She lives in North Carolina with her husband, dogs, and chickens who may or may not be possessed.
Praise For…
---
"A grotesque romp! It takes up residence beneath your skin and refuses to leave." – Caitlin Starling, USA Today bestselling author of The Death of Jane Lawrence

"Thoroughly creepy and utterly enjoyable." -- Publishers Weekly

"Creepy, claustrophobic, and completely entertaining, What Moves the Dead left me delightfully repulsed. I adored this book!"—Erin A. Craig, NYT bestselling author of House of Salt and Sorrows

"T. Kingfisher spins biting wit, charm and terror into a tale that will make your skin crawl. Poe would be proud!"—Brom, author of Slewfoot

"Dissects the heart of Poe's most famous tale and finds a wholly new mythology beating inside it. …Pure fun."—Andy Davidson, author of The Boatman's Daughter

"What Moves the Dead is a must-read, period."—Jordan Shiveley, author of Hot Singles In Your Area

"A gothic delight!"—Lucy A. Snyder, author of Sister, Maiden, Monster

"A fluid technicolor reimagining of Poe's "House of Usher" that takes no prisoners…Not to be missed." – Brian Evenson, author of Last Days

"Perfectly hair-raising in all the right ways." -- Premee Mohamed, author of Beneath the Rising