Williams Hematology, 10th Edition (Hardcover)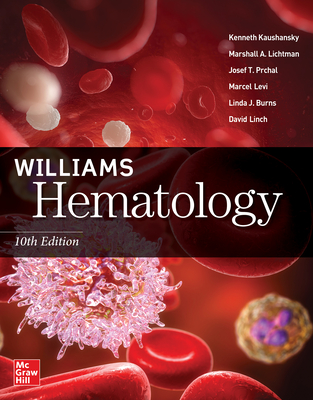 Description
---
The landmark text that has guided generations of hematologists and related practitioners―updated with the latest research findings and improved format and presentation
Doody's Core Titles for 2021
Long revered for its comprehensiveness and extraordinary depth of detail, Williams Hematology provides essential coverage of the origins, pathophysiological mechanisms, and management of benign and malignant disorders of blood and marrow cells and coagulation proteins. The text contains a wealth of basic science and translational pathophysiology for optimal, lifelong learning. Experts in research and clinical hematology, the editors are known worldwide for their contributions to the field.
This new edition contains everything that has made Williams Hematology the go-to resource for decades and has been updated with new chapters and critical new research into the molecular mechanisms responsible for hematological disorders and the impact on diagnosis and treatment. And the new format enables you to access each chapter via content modules covering key topics, with summaries, infographics, and cases―all linked to review questions for self-assessment. The full-color presentation integrates images of blood and tissue findings where they are cited in the text.
NEW TO THIS EDITION:

Updated and revised content reflecting the latest research and developments
Convenient format that streamlines the learning process and improves retention
Additional chapters added on:

Immune Checkpoint Inhibitors

Immune Cell Therapy: Chimeric Antigen Receptor T Cell Therapy

Immune Cell Therapy Dendritic Cell and Natural Killer Cell Therapy

The processes of cell death and survival

Application of Big Data and Deep Learning in Hematology
Williams Hematology Cases with multiple-choice questions including detailed explanations--perfect preparation for the boards
Continuously updated online content with comprehensive drug therapy database and other resources
About the Author
---
Kenneth Kaushansky, MD, MACP, is Dean of the School of Medicine and Senior Vice President of Health Sciences at Stony Brook University. He has served on the faculty of the University of Washington and as Hematology Section Chief at the University of Washington Medical Center. Named Helen M. Ranney Professor and Chair of the Department of Medicine at UC San Diego in February 2002, Kaushansky is a past-president of the American Society of Hematology, the American Society for Clinical Investigation, and the Western Society for Clinical Investigation.Marshall A. Lichtman, MD, has served for more than 50 years at the University of Rochester School of Medicine and Dentistry, as a clinician, researcher, educator, department head, and dean. Professor Emeritus in the Departments of Medicine (Hematology/Oncology) and of Biochemistry and Biophysics, he was named a Master of the American College of Physicians in 1994. Lichtman has also served as Executive Vice President for Research and Medical Affairs at the Leukemia and Lymphoma Society, where he expanded the Society's Translational Research Program and started the Clinical Scholars and Specialized Centers of Research grant programs, the latter of which was later named in his honor.Marcel Levi is Chief Executive Officer of the University College London Hospital System and a consultant physician at UCLH. After his medical training and specialization in Internal Medicine at the University of Amsterdam, he obtained his PhD with honors and was appointed as a Fellow by the Royal Netherlands Academy of Science. He has also worked at the University of Perugia, Italy and the Center for Transgene Technology and Gene Therapy of the University of Leuven, Belgium. He has published more than 700 articles in international scientific journals, has been awarded several international research awards, and serves as an associate editor for many international scientific journals. Levi was elected as a member of the Royal Netherlands Academy of Science (KNAW) and a fellow of the Royal College of Physicians in the UK, and he served as Dean of the Faculty of Medicine of the University of Amsterdam and as Chairman of the Executive Board of the Academic Medical Center in Amsterdam. Josef T. Prchal, MD, earned his medical degree from Charles University in Prague, Czech Republic, completed his residency in internal medicine at Toronto General Hospital and his hematology fellowship at Toronto General and Sunnybrook Hospital, and served as a research fellow at the City of Hope Medical Center in Duarte, California. Linda J. Burns, MD, is Vice President and Medical Director of Health Services Research, National Marrow Donor Program/Be The Match, and a Member of the CIBMTR Executive Committee Education and Honors. She has served as the inpatient BMT Medical Director and Director of the Institutional Site Specific Teams for the Masonic Cancer Center, as well as the fellowship program director for her division. She is the only three-time awardee of the Division of Hematology, Oncology and Transplantation Academic Mentor Award. Other awards include the Eric G. Neilson, MD Distinguished Professor Award from the Association of Specialty Professors and the Distinguished Service Award from the University of Missouri Columbia. Burns served as Director of the American Society for Blood and Marrow Transplantation and as President of the American Society of Hematology.David C. Linch, FRCP, FRCPath, FMedSci, is Professor of Hematology and Head of the Department of Hematology and Chairman of the CRUK Cancer Centre at University College London (UCL), where he was a Welcome Trust Clinical Research Fellow and MRC Travelling Research Fellow to the Dana Faber Cancer Institute in Boston. He has served as Senior Lecturer at the Middlesex Hospital and was appointed to a Chair of Hematology at UCL; he took up the leadership of the Department of Hematology in 1992 and from 2004 to 2007 was the Chairman of the Division of Cancer Medicine at UCL.