Camp (A Click Graphic Novel) (Paperback)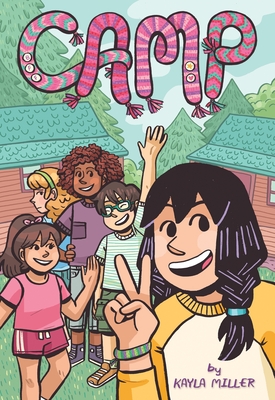 Staff Reviews
---
All of us can relate to the jealousy that can break up a friendship and what happens between Olive and Willow at camp will bring back all sorts of uncomfortable memories. Willow's struggle to fit in and dealing with her homesickness was beautifully portrayed by Kayla Miller and I loved her story and her artwork! The kids at the camp were fantastic as were the incredible camp staff. Loved this summer tale of a two week struggle between two great friends.
— Therese
Description
---
From New York Times bestselling author-illustrator Kayla Miller comes a graphic novel about venturing off to summer camp for the first time and stepping out of one's comfort zone, navigating new experiences, and the satisfaction of blazing your own trails.

Olive and Willow are happy campers!
Or are they?
 
Olive is sure she'll have the best time at summer camp with her friend Willow – but while Olive makes quick friends with the other campers, Willow struggles to form connections and latches on to the only person she knows – Olive. It's s'more than Olive can handle! The stress of being Willow's living security blanket begins to wear on Olive and before long…the girls aren't just fighting, they may not even be friends by the time camp is over. Will the two be able to patch things up before the final lights out?

The New York Times bestselling author-illustrator Kayla Miller has created an emotional and honest story about navigating new experiences, learning to step outside one's comfort zone, and the satisfaction of blazing your own trails.

Looking for more of Olive's adventures? Check out the companion books Click and Act.
 
About the Author
---
Kayla Miller is a New York Times bestselling author-illustrator living and working in New York. They have a BFA in Illustration from the University of the Arts in Philadelphia. Kayla enjoys watching bad movies, trying to cook new recipes, playing board and video games, and reading other people's graphic novels.
Praise For…
---
NEW YORK TIMES BESTSELLER!

"Miller tells a story that isn't often told – that of an overbearing friendship that threatens to develop into codependency"—New York Times Book Review

"There's nothing more irksome than going to camp with a close friend and getting dumped in favor of a bunch of new kids—unless it's going to camp with a close friend and having her turn clingy and jealous when you try to talk to anyone else."—Wall Street Journal

"Fans of the first book, Click (2018), will especially appreciate this all-around excellent summer read." —Booklist

"[A] sweet summer camp story about friendship in a multicultural setting." —Kirkus
We appreciate your continued support!
If you would like to make a donation to help us through CLICK HERE.