Eden (Hardcover)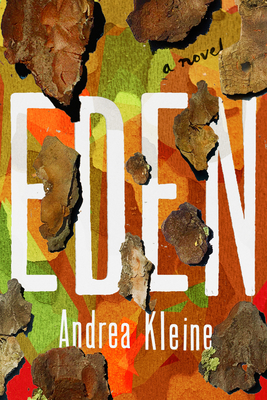 $27.50
This item is not currently available to order.
Description
---
One of "Summer's Smartest and Most Innovative Thrillers" (Vanity Fair): A bold, page-turning novel that follows the rippling effects of a childhood abduction on two sisters

Every other weekend, Hope and Eden—backpacks, Walkmans, and homework in hand—wait for their father to pick them up, as he always does, at a strip-mall bus stop. It's the divorce shuffle; they're used to it. Only this weekend, he's screwed up, forgotten, and their world will irrevocably change when a stranger lures them into his truck with a false story and smile.
 
Twenty years later. Hope discovers that the man who abducted them is up for parole and the sisters might be able to offer testimony to keep him in jail. There's only one problem: Eden is nowhere to be found.
 
Hope sets out on a harrowing quest—from hippie communes to cities across the country, and into her own troubled past—to track down her sister. Will she find Eden in time? And what will she learn about herself along the way?
About the Author
---
ANDREA KLEINE is the author of the novel Calf, which was named one of the best books of 2015 by Publishers Weekly. She is a five-time MacDowell Colony Fellow and the recipient of a New York Foundation for the Arts fellowship. A performance artist, essayist, and novelist, she lives in New York City.
Praise For…
---
Included in The New Yorker's "Briefly Noted"
One of Vanity Fair's "Summer's Smartest and Most Innovative Thrillers" 
​One of Nylon's "Great Books to Read this Summer"
One of BBC.com's "10 Books to Read in July" 
One of Bitch Media's "Books Feminists Should Read in July"
One of Bustle's "Books You Need to Know This Week" 
One of Chronogram's "6 Books to Read this Summer"
One of iBooks "Summer's Most Anticipated Books"
One of The Millions's "Most Anticipated"
A Publisher's Lunch "Emerging Voice"

"Kleine's crisp sentences paint Hope as a protagonist with watchful eyes in a world that confuses her. The mystery of Eden unfolds across America with humor and some clever detective work, combining a page-turner with a moving meditation on the limitations of family amidst trauma."—Vanity Fair, "Summer's Smartest and Most Innovative Thrillers"

"A devastating, revelatory examination of trauma, memory, creation, and the ways in which we define ourselves according to our experiences."—NYLON, "Great Books to Read this Summer"

"Kleine renders the people Hope loves and the trauma that holds her back with subtlety and compassion."—BBC.com, "10 Books to Read in July"

"This disturbing novel explores the aftermath of childhood trauma...Kleine conjures a character whose desire to understand her flaws and to connect with others shows her to be much more than a victim."—The New Yorker, "Briefly Noted"

"I read this novel in one sitting because I simply couldn't stop reading…when I closed the book, I couldn't stop thinking about Hope and Eden, and what would happen next."—Book Riot, "The Best Books We Read in June 2018"

"Eden is that rare bird of a book that manages to be both a page-turner and a moving and stark meditation—on sisterhood, violence, trauma, memory, and how a single event can shape a life."—Chronogram, "6 Books to Read this Summer"

"Fascinating...the grown-up part of Hope's life as a lovelorn, struggling playwright living in New York City is riveting."—New York Journal of Books

"Powerful and harrowing."—Vol. 1 Brooklyn

"Don't miss this haunting novel with heartbreaking themes of attachment and trauma."—Hello Giggles

"Hope has lost everything: She's been dumped by her long-term girlfriend, kicked out of her apartment, and orphaned after her mother dies from cancer. But Larry, a man who, years before, abducted Hope and her half-sister, Eden, from a bus station is eligible for parole. Hope believes Larry should stay in prison, but the district attorney thinks she and Eden will have to share more information about the kidnapping with the parole board to guarantee that. That's how Hope embarks on a cross-country journey to find her estranged sister and confront the trauma that's she been avoiding for far too long."—Bitch Media, "11 Books Feminists Should Read in July"

"Twenty years ago, Hope and her sister Eden were kidnapped when their father forgot to pick them up after school. Now, their captor is eligible for parole, and Eden is nowhere to be found. Racing against the testimony clock, Hope sets out on a journey to find her sister."—BUSTLE, "15 New Books With Fall-Colored Covers To Bring Some Autumn Fun To Your Nightstand"

"Kleine is no stranger to violence, and Eden is a hard, sometimes frightening look at the way trauma follows us."—The Millions, "Most Anticipated"

"It would be easy to read Eden as a literary mystery exploring trauma and its after-effects, yet Kleine is up to something more diffuse and sprawling. I was as drawn in to the details of the semi-struggling artist's life, which recalled Lynne Tillman's brainy downtown deadpan, as I was to Hope's increasingly dispirited search for Eden in an old VW camper van."—Lambda Literary Review

"I really liked Eden by Andrea Kleine, about how a childhood abduction changes two sisters' lives—the voice is so interesting and unique, and the book has that combination of darkness and funny hopefulness that I love."—Emily Gould, Emily Books

"Fascinating...a gripping portrait of the lingering effects of trauma."—Publishers Weekly 

"A compelling tale…striking."—Kirkus Reviews

"Performance artist Kleine portrays a young woman's bumpy and sometimes uncomfortable journey toward resolution and self-reliance in this novel of discovery and healing."—Library Journal

"Eden is an artful, deeply engrossing and moving novel about our struggle to understand how our past (and our understanding of the past) has shaped who we are. Hope, a survivor who narrates the novel from both her childhood and from her adulthood, is a wonderfully realized and nuanced character.  She is flawed, complicated, a mess—but she is also far stronger and wiser than she realizes."—Dana Spiotta, author of Innocents and Others
 
"The best novels name those aspects of surviving that we know only from the inside, to which we have not, or cannot bear to put words. In this novel, Andrea Kleine has articulated the way trauma creates us, and we, in turn, create it: as a story, a song, a sister, a sore place that we worry as if our touch might heal. In these characters she has articulated the many dark and beautiful things that come when we face our pasts and ourselves, and that hard alternate freedom--of running away."—Melissa Febos, author of Whip Smart andAbandon Me

"Eden is totally consuming and hard to put down. Andrea Kleine writes with wit and heart in this devastating and beautiful novel about sisterhood, violence, and how a single event can shape a life."—Swan Huntley, author of The Goddesses and We Could Be Beautiful

"An unsentimental limning of the misuses of innocence and art-making that manages to break your heart from page one. Eden is a tasty, nasty, finally sweet bite out of lots of modern tropes: trauma, memory, attachment, consequence."—Rebecca Wolff, author of The Beginners and One Morning

"Andrea Kleine's gripping, intelligent novel is a work of great honesty. We meet Hope as she sorts through her strained life having survived abduction as a child, and journey with her as she accumulates strength in a search for her half-sister, Eden. I was engrossed by this story through its final pages."—Alice Elliott Dark, author of In the Gloaming

"Where does a story start? How does it end? How do we make sense of the past so the present isn't undone by it? Andrea Kleine's insightful, wise and beautiful novel, Eden, elegantly and humorously examines how we travel forward and back on the gorgeous, potholed road trip of our lives."—Jennifer Gilmore, author of Something Red and The Mothers

"Among the many reasons to read the fierce and wonderful Eden are its sly structure, its delicious pacing, its humor, its meditation on the strange, indelible phenomenon of being a sister, and its abiding interest in the ways tragedy defines us and the ways it doesn't. What I love most is the way these elements conspire to deliver a fresh and moving portrait of an artist. A spirit sister to Patti Smith's Just Kids, Eden tells the bounteous, searching, sorrowful, invigorating story of what it is to make a life out of making art."—Maud Casey, author of The Man Who Walked Away