Friday Black (Paperback)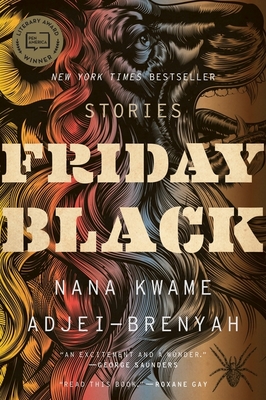 List Price: $18.99
Our Price: $14.99
(Save: $4.00 21%)
Staff Reviews
---
Imagine the short-story writing prowess of George Saunders meets a technology-wary episode of Black Mirror: you'd get something that is somehow, all at once, relentlessly satirical, darkly humorous, disturbing, unexpectedly tenderhearted and deeply sad. Adjei-Brenyah's collection contains all these attributes, and more. Whether he's writing about the absurdities of being a black American, the near violence of unrestrained consumerism, or the necessity of maintaining virtue in the face of impending doom, these stories offer timely parables for disquieting times.
— Tommy
This is one of the best story collections I have ever read, and my favorite book of the year. Holy smokes.
— Suzanna
Description
---
A NEW YORK TIMES BESTSELLER
"An unbelievable debut, one that announces a new and necessary American voice."—New York Times Book Review
The acclaimed debut collection from the author of Chain Gang All Stars; a piercingly raw and, at times, heartbreakingly satirical look at what it's like to be young and Black in America.
From the start of this extraordinary debut, Nana Kwame Adjei-Brenyah's writing will grab you, haunt you, enrage and invigorate you. By placing ordinary characters in extraordinary situations, Adjei-Brenyah reveals the violence, injustice, and painful absurdities that Black men and women contend with every day in this country.
These stories tackle urgent instances of racism and cultural unrest, and explore the many ways we fight for humanity in an unforgiving world.
In "The Finkelstein Five," Adjei-Brenyah gives us an unforgettable reckoning of the brutal prejudice of our justice system.
In "Zimmer Land," we see a far-too-easy-to-believe imagining of racism as sport.
"Friday Black" and "How to Sell a Jacket as Told by Ice King" show the horrors of consumerism and the toll it takes on us all.
Entirely fresh in its style and perspective, and sure to appeal to fans of Colson Whitehead, Marlon James, and George Saunders, Friday Black confronts readers with a complicated, insistent, wrenching chorus of emotions, the final note of which, remarkably, is hope.
About the Author
---
NANA KWAME ADJEI-BRENYAH is the New York Times-bestselling author of Friday Black. Originally from Spring Valley, New York, he graduated from SUNY Albany and went on to receive his MFA from Syracuse University. His work has appeared or is forthcoming from numerous publications, including the New York Times Book Review, Esquire, Literary Hub, the Paris Review, Guernica, and Longreads. He was selected by Colson Whitehead as one of the National Book Foundation's "5 Under 35" honorees, is the winner of the PEN/Jean Stein Book Award, and a finalist for the National Book Critics Circle's John Leonard Award for Best First Book and the Aspen Words Literary Prize.
 
Praise For…
---
"Fearless...[A] major literary debut . . . Unnervingly unpredictable . . . Friday Black ought to land as publishing's definitive addition to an exciting pop culture trend: new black surrealism. Films such as Get Out and Sorry to Bother You, or Donald Glover projects like Atlanta and "This Is America," derive political power from a kind of absurdist framing, which this book shares . . . Adjei-Brenyah executes his premises with an elegant Black Mirror-like realism...In their gnarly intensity, their polemical potency, they hit us where we live, here and now. Sometimes it takes a wild mind to speak the plainest truth."  — Entertainment Weekly
"A powerful and important and strange and beautiful collection of stories . . . An unbelievable debut, one that announces a new and necessary American voice . . . Adjei-Brenyah's voice here is as powerful and original as Saunders's is throughout Tenth of December . . . In Friday Black, the dystopian future Adjei-Brenyah depicts—like all great dystopian fiction—is bleakly futuristic only on its surface. At its center, each story—sharp as a knife—points to right now."  — Tommy Orange, New York Times Book Review
"They're dystopian, they're absurdist, there's elements of horror. This is [Adjei-Brenyah's] debut, and I can't wait to see all of the work he does from here."  — Yaa Gyasi, Today Show
"Strange, dark and sometimes unnervingly funny . . . The [titular] story is a not-so-subtle critique of consumerism run amok. But like all effective satire, there's a glint of truth and accumulation of mundane details that make the farcical scenario feel plausible . . . [Friday Black] uses fantasy and scorching satire to tackle issues like school shootings, abortion, racism, the callowness of commercialism, and how cyclical violence can be passed on across generations . . . Adjei-Brenyah renders prosaic scenarios unfamiliar by adding a surreal, disorienting twist."  — Alexandra Alter, New York Times
"I can't remember the last book that has moved, unsettled, inspired me the way Nana Kwame Adjei-Brenyah's Friday Black did. From challenging the reader's unconscious biases through a narrator who rates his "Blackness" on a 1-10 scale, to creating a semi-speculative thought experiment in which racism is treated as a cultural pastime, these are stories in which the satirical humor cuts as deep as its gritty violence." — Lauren Christensen, New York Times
"A collection of short stories unlike any I have read in recent memory...You will stomach reaching of a chainsaw massacre just for the striking, resonant payoff at the end. And your post-Thanksgiving shopping may never be the same. It's also absurdly funny, but you'll wonder if you should be laughing."  — Randy Archibold, The New York Times Book Review
"Impressive...There's enormous talent on display in Friday Black." — Wall Street Journal
"This pitch-dark, brutal, occasionally—mercifully!—funny collection of stories takes on the insidious nature of racism and the horrors of capitalism in equal measure and somehow ends up hopeful on the other side. Friday Black is enraging, it's inventive . . . Much like living through this year, the experience of reading Nana Kwame Adjei-Brenyah's debut can be harrowing, but it's ultimately a pleasure to be in the company of a new voice as exciting as this." — Vogue
"In this vivid, original story collection, Adjei-­Brenyah presents ­America in all its racism, weirdness and abject consumerism."  — Time
 "Surreal, sobering, and tender all at once, this debut collection shines a laser-sharp light on the experience of being black in today's America."  — People
"Inventive and stirring. ... So daring and mind-bending that you haven't a clue where he's going to take you. ... Adjei-Brenyah is a versatile writer who creates a micro-universe with each story that explodes our expectations and takes us inside frustrated lives." — Bernardine Evaristo, The Guardian
"No comparison can convey a book's intellectual heft, and Friday Black is as intellectually hefty as fiction can get. ... Adjei-Brenyah has some serious powers himself. The energy in his fiction is wild, barely controllable yet perfectly controlled. ... Adjei-Brenyah fits big emotion, big action, and big thought into each story." — NPR.org
"Adjei-Brenyah possesses a dark wit, the ability to take a fanciful notion and make it comically, nightmarishly literal. ... This high-concept and morally rich collection is discomfiting and moving, savage in its social critique yet generous towards its characters. It ends with a lovely, tempered note of hope... The stories that Adjei-Brenyah tells are terrifying. But, in our reading them, at least we're not alone." — Boston Globe
"Edgy humor and fierce imagery coexist in these stories with shrewd characterization and humane intelligence, inspired by volatile material sliced off the front pages. ... Corrosive dispatches from the divided heart of America." — Kirkus Reviews (starred review)
"Adjei-Brenyah's dozen stories are disturbingly spectacular, made even more so for what he does with magnifying and exposing the truth. At first read, the collection might register as speculative fiction, but current headlines unmasking racism, injustice, consumerism, and senseless violence prove to be clear inspirations. ... Ominous and threatening, Adjei-Brenyah's debut is a resonating wake-up call to redefine and reclaim what remains of our humanity." — Booklist (starred review)
"Adjei-Brenyah has put readers on notice: his remarkable range, ingenious premises, and unflagging, momentous voice make this a first-rate collection." — Publishers Weekly (starred review)
"Cutting from start to finish, a deep stare into the sociocultural abyss shot through with bleak humor. ... An important book for our contemporary political moment." — Tor.com
"These stories magnify what it means to be black in America—wherein your very presence can be deemed threatening, and therefore worthy of capital punishment—through a satirical, uncanny lens, reflecting back just how absurd and dehumanizing our reality is. They force us to reckon with our country's toxic racism and consumerism while being compulsively readable and somehow even funny. ... America might be dehumanizing, Adjei-Brenyah seems to say, but we can still be human." — BOMB