Sing with Me / Canta Conmigo: Six Classic Songs in English and Spanish (Hardcover)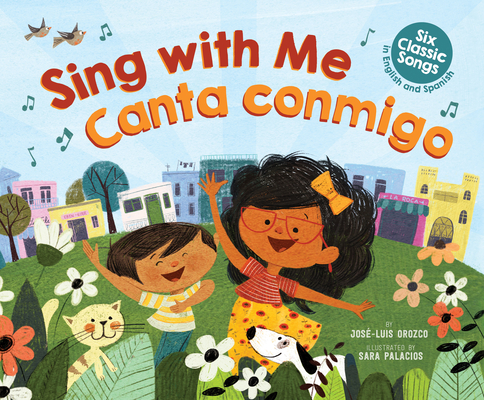 $17.99

Available in our Warehouse: Usually Ships in 3-8 Days
Description
---
Sing and read along to these six favorite preschool songs, in English and in Spanish, from beloved and bestselling recording artist, José-Luis Orozco!Come along and sing with me! Sing along to your child's favorite songs, from "Twinkle, Twinkle, Little Star" to "The Wheels on the Bus," in English and in Spanish! Accompanied by joyful, charming illustrations by Pura Belpré award winner Sara Palacios, this book is for every child who loves to sing, dance, and play.
About the Author
---
Sara Palacios is the illustrator of the Pura Belpré honor book Marisol McDonald Doesn't Match, How to Code a Sandcastle, Shaking Things Up: 14 Young Women Who Changed the World, Sing with Me / Canta Conmigo, Hello, Friend / Hola, Amigo, and more. She divides her time between San Francisco and Mexico City.
José-Luis Orozco is a bilingual children's performer, recording artist, and author who makes appearances nationwide. He lives in Los Angeles, California.
Praise For…
---
Praise for Sing with Me/Canta Conmigo: Six Classic Songs in English and Spanish:"Six tunes "steeped in the tradition of classic children's songs of the United States" are thoughtfully translated into Spanish by children's musician Orozco. The translations sit side by side on the page, making it easy for readers learning the song in either language to cross-reference while building their vocabulary. Orozco adds his voice in an author's note about the importance of both multilingualism and music to child development. Pura Belpré Honoree Palacios's cheery, scribble-textured illustrations follow two joyful brown-skinned children as they move through inclusive communities in a day peppered with the selected songs: in the classroom ("The ABC"/ "El ABC"), on their commute ("The Wheels on the Bus"/ "Las Ruedas Del Camión"), and at home on a farm ("Old McDonald"/ "Juancho Pancho"). A small but mighty assortment of childhood's greatest hits, and a welcome resource for any bilingual bookshelf." -- Kirkus Reviews

Praise for Sing with Me/Canta Conmigo: Six Classic Songs in English and Spanish:"Six tunes "steeped in the tradition of classic children's songs of the United States" are thoughtfully translated into Spanish by children's musician Orozco. The translations sit side by side on the page, making it easy for readers learning the song in either language to cross-reference while building their vocabulary. Orozco adds his voice in an author's note about the importance of both multilingualism and music to child development. Pura Belpré Honoree Palacios's cheery, scribble-textured illustrations follow two joyful brown-skinned children as they move through inclusive communities in a day peppered with the selected songs: in the classroom ("The ABC"/ "El ABC"), on their commute ("The Wheels on the Bus"/ "Las Ruedas Del Camión"), and at home on a farm ("Old McDonald"/ "Juancho Pancho"). A small but mighty assortment of childhood's greatest hits, and a welcome resource for any bilingual bookshelf." -- Kirkus Reviews