Deepfake (Hardcover)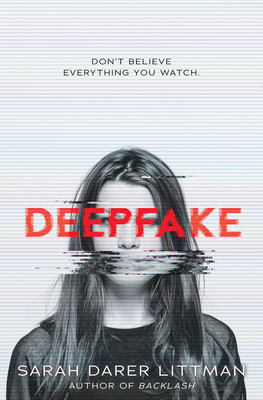 $17.99
Available in our Warehouse: Usually Ships in 3-8 Days
Description
---
What happens when anyone can make a video of you saying anything?
Dara Simons and Will Halpern have everything they've ever wanted. They are the rulers of Greenpoint High's geekdom, overachieving in every way, and it's an intense competition to see who will be valedictorian. One the entire school is invested in. That is, until Rumor Has It, the anonymous gossip site, posts a video of Dara accusing Will of paying someone to take the SAT for him.

When the video goes viral, suddenly Will's being investigated, and everyone's wondering how he pulled off cheating on the SAT. But Dara swears that she didn't say any of those things, which seems a little hard to believe since it's her in the video.

Did Will cheat?

Is it Dara saying he did?

Who's lying, and who's telling the truth?

The answer is more shocking than anyone realizes...
About the Author
---
Sarah Darer Littman is the critically acclaimed author of Backlash; Want to Go Private?; Anything But Okay; In Case You Missed It; Life, After; and Purge. She is also an award-winning news columnist and teaches writing at Western Connecticut State University and with the Yale Writers' Conference. Sarah lives in Connecticut with her family, in a house that never seems to have enough bookshelves. You can visit her online at sarahdarerlittman.com.
Praise For…
---
Praise for Sarah Darer Littman

Backlash
"Littman pens a raw, frighteningly realistic, and absorbing look at cyberbullying and the damaging effects of airing private trauma in a public forum." -- Publishers Weekly

"This is a powerful and credible story." -- Booklist

Want to Go Private?
"A bold investigation of a potentially lethal, if common, mixture for teen girls: emotional immaturity, technology and emerging sexuality." -- Los Angeles Times

"This book is a compelling, if not disturbing, read." -- School Library Journal

Anything But Okay
"With well-developed characters, Littman explores growth and personal relationships alongside pain, mental illness, and social issues -- showing how people can come together to heal." -- Kirkus Reviews

"This novel by Littman tackles the current sociopolitical climate with multifaceted, redeemable characters." -- Publishers Weekly

In Case You Missed It
"Littman crafts an unnerving cautionary tale about misplaced digital trust and illusions of privacy." -- Publishers Weekly

"An unexpectedly layered story of slow awakening and redemption." -- Kirkus Reviews

Life, After
"Convincing and absorbing." -- Publishers Weekly

"Littman catches the voice of teen readers with her spot-on dialogue and realistic situations." -- The Jewish Journal

Purge
"An intimate and powerful novel." -- The Stamford Times
We appreciate your continued support!
If you would like to make a donation to help us through CLICK HERE.