Friend Me (Hardcover)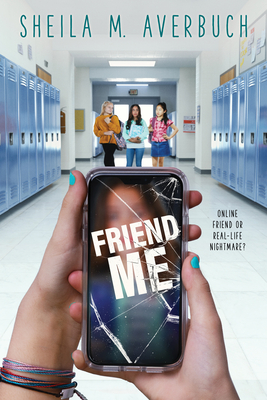 Description
---
An Amazon Best Book of the Month
What happens when an online friend becomes a real-life nightmare?
Roisin hasn't made a single friend since moving from Ireland to Massachusetts. In fact, she is falling apart under constant abuse from a school bully, Zara. Zara torments Roisin in person and on social media. She makes Roisin the laughingstock of the whole school.
Roisin feels utterly alone... until she bonds with Haley online. Finally there's someone who gets her. Haley is smart, strong, and shares anti-mean-girl memes that make Roisin laugh. Together, they are able to imagine what life could look like without Zara. Haley quickly becomes Roisin's lifeline.
Then Zara has a painful accident, police investigate, and Roisin panics. Could her chats with Haley look incriminating?
Roisin wants Haley to delete her copies of their messages, but when she tries to meet Haley in person, she can't find her anywhere. What's going on? Her best friend would never have lied to her, right? Or is Haley not who she says she is...
With twists, turns, and lightning-fast pacing, this is a middle-grade thriller about bullying, revenge, and tech that young readers won't be able to put down.
About the Author
---
Sheila M. Averbuch is a former tech journalist who's interviewed billionaires, hackers, and would-be Mars colonists. She writes fiction for middle grade and is bewitched by and suspicious of technology in equal measure. Sheila cofounded the Scotland network of the Society of Children's Book Writers and Illustrators and was first winner of The Hook, SCBWI's national live pitching competition in the UK. She's a 2019 awardee of the Scottish Book Trust's New Writers Award and has read her work at the Portobello Book Festival and Listen Softly. Originally from Massachusetts, Sheila did a degree in history and literature at Harvard and a journalism MA at Stanford before moving to Ireland, where she covered the Northern Ireland Troubles for USA Today and set up Ireland's first IT news service. She's founder of the content agency ENNclick and lives today with her family in Scotland, outside Edinburgh.
Praise For…
---
Praise for Friend Me:
An Amazon Best Book of the Month
"Friend Me is a heart-racing escalation from toxic teen power play and the dangers of social media to a darkly searing near-future thriller. A stunning debut." - Elizabeth Wein, New York Times bestselling author of Code Name Verity
"A stunning, suspenseful look at the very real impact on tweens when the inexorable march toward more technology goes haywire. It's like Mean Girls meets Black Mirror with very scary results." - Sarah Darer Littman, author of Backlash
"Fast paced, original, and gripping! This book has twists and turns and a sci-fi edge, yet it still keeps an important question at its heart: What makes a true friend?" - Lisa Thompson, author of The Goldfish Boy
"Readers will sleep with the lights on after consuming this fast-paced thriller." - Kirkus Reviews
"[A] cyberthriller that will keep readers on the edge of their seats." - Publishers Weekly
We appreciate your continued support!
If you would like to make a donation to help us through CLICK HERE.