Into the Bloodred Woods (Hardcover)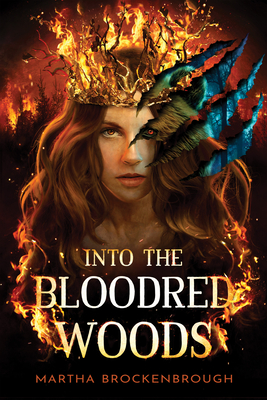 Staff Reviews
---
A dark and beautiful fairy tale that thrums with potent feminist rage.
— Jennifer
Description
---
Happily ever after is a lie.
Once upon a time there was a kingdom, and a forest that liked to eat men, and a girl who would change everything, but not alone ...
Except --
There's no such thing as once upon a time.
In a faraway land, populated by were beasts and surrounded by a powerful forest, lies a kingdom about to be sent into chaos. On his deathbed, King Tyran divides his land, leaving half to each of his two children -- so they'll rule together. However, his son, Albrecht, is not satisfied with half a kingdom. And even though his sister, Ursula, is the first born, he decides that, as a girl and were bear, she is unfit to rule. So he invades her land, slaughtering her people and most of the were beasts, and claims it for himself.
As King Albrecht builds his iron rule and an army to defend his reign, Ursula is gathering the survivors and making plans to seize back the kingdom. Not just her half -- the whole thing. Because Albrecht should have never been allowed to sit on the throne, and Ursula is going to take his crown. And if he's not careful, he might not get to keep his head either.
About the Author
---
Martha Brockenbrough is the acclaimed author of two books for adults and 10 books for young readers, including Unpresidented; The Game of Love and Death; Love, Santa; The Dinosaur Tooth Fairy; Devine Intervention; and Cheerful Chick. Martha teaches in the master's program at Vermont College of Fine Arts. She lives in Seattle, Washington, with her husband, their two daughters, and their wonderful old dog. Visit her online at marthabrockenbrough.com.
Praise For…
---
Praise for Into the Bloodred Woods
"A tapestry of stories, a confluence of voices, this book is a symphony, and Martha Brockenbrough is its maestra." -- Elana K. Arnold, author of the Printz Honor Book Damsel and Red Hood
"Unflinching, bloodstained magic." -- Kirkus Reviews
"Studded with references to familiar fairy tales, this gruesome fantasy from Brockenbrough explores the revolutionary properties of honesty, equality, and self-acceptance." -- Publishers Weekly
Praise for The Game of Love and Death
A B&N Teen Best YA Book
A Booklist Editors' Choice
A Kirkus Best Teen Book
A Publishers Weekly Best Book
An Amazon Best Book of the Year
A PNBA Northwest Book Awards Winner
A YALSA Teens Top Ten Title
Winner of the Washington State Scandiuzzi Children's Book Award
A Finalist for the Audie Awards
* "This sophisticated novel is filled with breathtaking prose and nuanced characterizations... a thoughtful exploration of courage, love, and the price we pay to live." -- Booklist, starred review
* "Romance fans will find plenty to swoon over here, while aspiring philosophers will find just as much to ponder." -- BCCB, starred review
* "Brockenbrough never sugarcoats the obstacles facing Henry and Flora's love -- whether human prejudices or supernatural manipulations--in this inventive and affecting novel, and the ending in which Flora, who has seen too many people die, realizes how love and death intertwine, is beautiful." -- Publishers Weekly, starred review
"The Game of Love and Death is a unique and deeply moving novel." -- BookPage
"It's a poignant reminder of how far we've come since the 1930s in terms of race, class, and sexual orientation--and how far we still have to go." -- Horn Book
"Brockenbrough's precise, luscious prose cuts back and forth among the four protagonists, according each character equal depth... Race, class, fate and choice -- they join Love and Death to play their parts in Brockenbrough's haunting and masterfully orchestrated narrative." --Kirkus Reviews
Praise for Devine Intervention
* "Beneath the snark, though, runs a current of devastatingly honest writing that surprises with its occasional beauty and hits home with the keenness of its insight. As the clock ticks down on Heidi's soul, readers will be rooting for both Jerome and Heidi with all their hearts." -- Kirkus Reviews, starred review
"Devine Intervention is a little slice of heaven." -- Los Angeles Times
"Jerome's bumbling logic and wickedly funny observations are what make Brockenbrough's first book for teens so much fun. Underneath the occasionally risqué humor and unexpected plot twists (including the possession of multiple animals' bodies) is an insightful story about seizing life for all it's worth while you have the chance." -- Publishers Weekly
"Brockenbrough's droll style delivers some laugh-out-loud moments. Reluctant readers will find the Heidi-Jerome dynamic entertaining and heartrending." -- School Library Journal
Praise for The Game of Love and Death
A B&N Teen Best YA Book
A Booklist Editors' Choice
A Kirkus Best Teen Book
A Publishers Weekly Best Book
An Amazon Best Book of the Year
A PNBA Northwest Book Awards Winner
A YALSA Teens Top Ten Title
Winner of the Washington State Scandiuzzi Children's Book Award
A Finalist for the Audie Awards
* "This sophisticated novel is filled with breathtaking prose and nuanced characterizations... a thoughtful exploration of courage, love, and the price we pay to live." -- Booklist, starred review
* "Romance fans will find plenty to swoon over here, while aspiring philosophers will find just as much to ponder." -- BCCB, starred review
* "Brockenbrough never sugarcoats the obstacles facing Henry and Flora's love -- whether human prejudices or supernatural manipulations--in this inventive and affecting novel, and the ending in which Flora, who has seen too many people die, realizes how love and death intertwine, is beautiful." -- Publishers Weekly, starred review
"The Game of Love and Death is a unique and deeply moving novel." -- BookPage
"It's a poignant reminder of how far we've come since the 1930s in terms of race, class, and sexual orientation--and how far we still have to go." -- Horn Book
"Brockenbrough's precise, luscious prose cuts back and forth among the four protagonists, according each character equal depth, with Ethan playing a heartbreaking supporting role.... Race, class, fate and choice -- they join Love and Death to play their parts in Brockenbrough's haunting and masterfully orchestrated narrative." --Kirkus Reviews
Praise for Devine Intervention
* "Beneath the snark, though, runs a current of devastatingly honest writing that surprises with its occasional beauty and hits home with the keenness of its insight. As the clock ticks down on Heidi's soul, readers will be rooting for both Jerome and Heidi with all their hearts." -- Kirkus Reviews, starred review
"Devine Intervention is a little slice of heaven." -- Los Angeles Times
"Jerome's bumbling logic and wickedly funny observations are what make Brockenbrough's first book for teens so much fun. Underneath the occasionally risqué humor and unexpected plot twists (including the possession of multiple animals' bodies) is an insightful story about seizing life for all it's worth while you have the chance." -- Publishers Weekly
"Brockenbrough's droll style delivers some laugh-out-loud moments. Reluctant readers will find the Heidi-Jerome dynamic entertaining and heartrending." -- School Library Journal