Welcome to St. Hell: My Trans Teen Misadventure: A Graphic Novel (Paperback)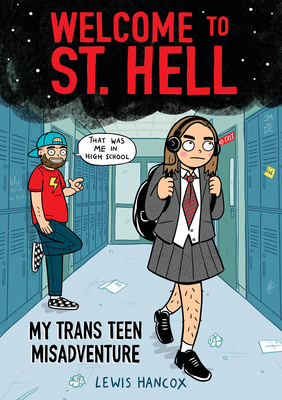 Staff Reviews
---
British author & artist Lewis Hancox shares his story of struggling with his gender identity as a young person and his transition. Despite extremely British references, this book will resonate with American readers for it's authenticity and frank discussion of the trans experience.
— Suzanna
While certainly not for everybody, this extremely British graphic novel memoir will tickle the hearts of queer teen anglophiles—and its refusal to shy away from the struggle with body dysmorphia will mean a lot to those trans teens who resonate.
— Nicole
Description
---
A groundbreaking memoir about being a trans teen, in the vein of FUN HOME and FLAMER... and at the same time entirely its own.
Lewis has a few things to say to his younger teen self. He knows she hates her body. He knows she's confused about who to snog. He knows she's really a he and will ultimately realize this... but she's going to go through a whole lot of mess (some of it funny, some of it not funny at all) to get to that point. Lewis is trying to tell her this... but she's refusing to listen.
In WELCOME TO ST. HELL, author-illustrator Lewis Hancox takes readers on the hilarious, heartbreaking, and healing path he took to make it past trauma, confusion, hurt, and dubious fashion choices in order to become the man he was meant to be. It's a remarkable, groundbreaking graphic memoir from an unmistakably bold new voice in comics.
About the Author
---
Lewis Hancox is a writer, illustrator, and filmmaker from North West UK. Mainly known for his online characters British Mum and Prinny Queen, he's built a committed following and regularly produces viral comedy videos. He has been featured in the Channel 4 series My Transsexual Summer and co-created an ongoing film project about trans people called My Genderation. You can find him on Instagram and TikTok at @lewishancoxfilms, on Twitter at @LewisHancox, and on YouTube at Lewis Hancox. As a longtime fan of cartoons and comics, he's proud to have created Welcome to St. Hell, his first graphic memoir.