Britain Before Brexit: Historical Essays on Britain and Europe (Paperback)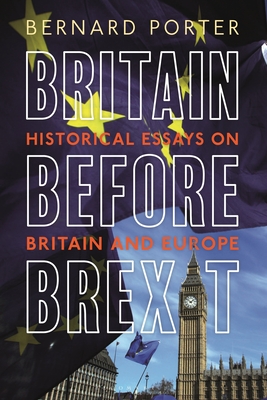 $51.23
This item is not currently available to order.
Description
---
"Why do the Brexiteers want to leave?" "Why do the Remainers want to stay?" "What exactly would a post-Brexit Europe look like?"
These questions have dominated the post- Brexit socio-political landscape. In this timely and engaging book Bernard Porter responds to these questions. Each chapter presents different historical episodes contributing to an overall understanding of what Porter calls Britain's "most important move in her national life since she risked her whole being to go to war with Germany in 1939." The book comprises a collection of well-researched and considered chapters ranging from Britain's 'asylum' policy for European refugees in the nineteenth and early twentieth centuries, to 'terrorism' in mainland Britain, and governments responses to it. Porter draws from a range of sources and personal experiences to investigate the cultural and social history that led us (or which specifically didn't lead us) to the decision to leave the European Union. The result is an engaging and personal analysis of Britain's distinctive 'identity', and on its former relations with Europe
About the Author
---
Bernard Porter is Emeritus Professor of Modern History, University of Newcastle, UK.