Complete Books of Enoch: All Three: New Translation with Extensive Commentary: 1 Enoch (First Book of Enoch), 2 Enoch (Secrets of Enoch), 3 Eno (Paperback)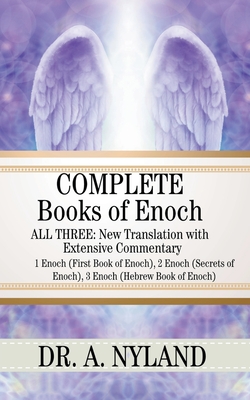 $16.99
Email or call for price.
Description
---
This is a NEW Translation of ALL THREE Books of Enoch, with extensive commentary.
This (all 3 Books of Enoch) is a new and easy-to-read translation by Dr. A. Nyland and is not the 1917 R.H. Charles Public Domain translation of The Book of Enoch.
This book is an easy to read translation with cross references, copious background notes, and notes.
Former college professor Dr. A. Nyland has a doctorate in ancient languages and word meaning. She has appeared on television and radio numerous times speaking about ancient languages and ancient peoples.
This new translation by Dr. A. Nyland contains all 3 Books of Enoch:
1) 1 Book of Enoch (Also called The Ethiopic Book of Enoch)
2) 2 Book of Enoch (Also called The Slavonic Book of Enoch, The Secrets of Enoch).
Also contains the extended version of 2 The Book of Enoch, The Exaltation of Melchizedek.
3) 3 Book of Enoch (Also called The Hebrew Book of Enoch)