Instagram Marketing Algorithms 10,000/Month Guide On How To Grow Your Business, Make Money Online, Become An Social Media Influencer, Personal Brandin (Paperback)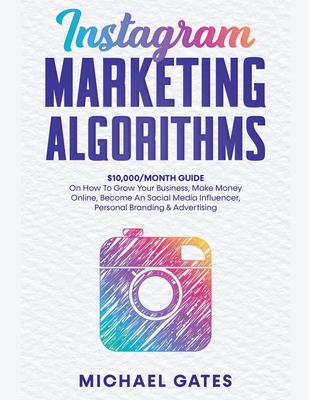 $23.99

Available in our Warehouse: Usually Ships in 3-8 Days
Description
---
The way brands communicate with their existing and target audience has undoubtedly transformed. One of the main reasons for this transformation is the increase in the popularity of social networking platforms. These days, an increasing number of brands are using visual media for communicating their brand's message. Social media has certainly revolutionized our lives.
Instagram has stood the test of time and is now one of the most popular social networking platforms today. So, if your brand isn't already on Instagram, then there is no time like the present to get started. Instagram has been around for a while, but not a lot of people know how to make the most of its features. The creators of this platform keep introducing new features along with changes to the algorithm. So, it is quintessential that you stay on top of all the updates.
In this book, you will learn about the things you need to increase your following on Instagram so you can maximize your profits. You will be given information about the different benefits you can reap by using Instagram. You will learn about various tips for choosing the perfect Instagram name and tricks to optimize your brand's Instagram profile. Apart from this, you will also learn about specific strategies for building your niche on Instagram and thoroughly engage your audience. Marketing on Instagram and how you can increase your following are also discussed in detail in this book. A combination of all these factors will ensure that your brand makes the most of all that Instagram has to offer.
You will want to make sure that whatever strategy you start to use on Instagram is going to keep the focus on the brand that you have built and how that brand sees the world. Instagram is great for sharing videos and photos so make sure that when you connect the business with your followers, make sure that it stays consistent with your brand rather than straying away or showing things that just don't go together.
Use your brand or company name in hashtags: the hashtags that you pick don't have to be complicated. If you already have a pretty good following on Instagram, or your brand name is well known, go ahead and use this as one of your hashtags. This will make it easier for your followers to find you because they can just search the name and find some of your posts.
Make a follower famous: it is not just about your followers checking out your posts, it is about how you interact with your followers. Take the time to look over the pages of your followers and then like and share some of their posts. This helps to show the customers that you really appreciate them because you are acknowledging their cool posts and sharing them with others on your page. Be careful with this one though because some may be personal and you should always ask for permission beforehand if you are unsure whether they would like it shared or not.
So, if you are ready to learn more, then let us get started immediately