Hungry Beat: The Scottish Independent Pop Underground Movement (1977-1984) (Paperback)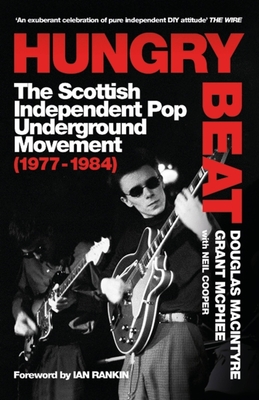 $19.99

Coming Soon - Available for Pre-Order Now
Description
---
Hungry Beat is the story of an all-too-brief era where the short-circuiting of that industry seemed viable. But hell, the times were luminous as was the music these artists made. The songs and many of the players remain, and here they tell their story and lick their wounds' Ian Rankin

The immense cultural contribution made by two maverick Scottish independent music labels, Fast Product and Postcard, cannot be underestimated. Bob Last and Hilary Morrison in Edinburgh, followed by Alan Horne and Edwyn Collins in Glasgow helped to create a confidence in being Scottish that hitherto had not existed in pop music (or the arts in general in Scotland). Their fierce independent spirit stamped a mark of quality and intelligence on everything they achieved, as did their role in the emergence of regional independent labels and cultural agitators, such as Rough Trade, Factory and Zoo.

Hungry Beat is a definitive oral history of these labels and the Scottish post-punk period. Covering the period 1977-1984, the book begins with the Subway Sect and the Slits performance on the White Riot tour in Edinburgh and takes us through to Bob Last shepherding the Human League from experimental electronic artists on Fast Product to their triumphant number one single in the UK and USA, Don't You Want Me. Largely built on interviews for Grant McPhee's Big Gold Dream film with Last, Hilary Morrison, Paul Morley and members of The Human League, Scars, The Mekons, Fire Engines, Josef K, Aztec Camera, The Go-Betweens and The Bluebells, Hungry Beat offers a comprehensive overview of one of the most important periods of Scottish cultural output and the two labels that changed the landscape of British music.
About the Author
---
Douglas MacIntyre was a key part of the Scottish postpunk scene and since 1994 has operated the Creeping Bent Organisation, the Scottish independent label viewed as a successor to Fast Product and Postcard.
  
Grant McPhee is director of the film, Big Gold Dream, interviews for which have been revisited to partly contribute to the book. 

Neil Cooper is an arts journalist and has chronicled Scottish postpunk manoeuvres.