A Jury of Her Peers: American Women Writers from Anne Bradstreet to Annie Proulx (Hardcover)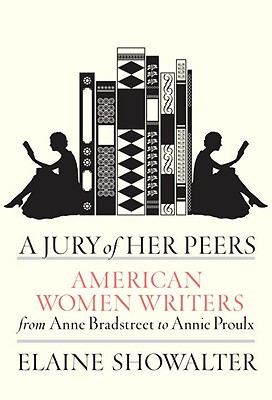 $30.00
Email or call for price.
Description
---
A Jury of Her Peers is an unprecedented literary landmark: the first comprehensive history of American women writers from 1650 to 2000.

In a narrative of immense scope and fascination—brimming with Elaine Showalter's characteristic wit and incisive opinions—we are introduced to more than 250 female writers. These include not only famous and expected names (Harriet Beecher Stowe, Willa Cather, Dorothy Parker, Flannery O'Connor, Gwendolyn Brooks, Grace Paley, Toni Morrison, and Jodi Picoult among them), but also many who were once successful and acclaimed yet now are little known, from the early American best-selling novelist Catherine Sedgwick to the Pulitzer Prize–winning playwright Susan Glaspell. Showalter shows how these writers—both the enduring stars and the ones left behind by the canon—were connected to one another and to their times. She believes it is high time to fully integrate the contributions of women into our American literary heritage, and she undertakes the task with brilliance and flair, making the case for the unfairly overlooked and putting the overrated firmly in their place.

Whether or not readers agree with the book's roster of writers, A Jury of Her Peers is an irresistible invitation to join the debate, to discover long-lost great writers, and to return to familiar titles with a deeper appreciation. It is a monumental work that will greatly enrich our understanding of American literary history and culture.
About the Author
---
Elaine Showalter, a professor emerita at Princeton University, is the author of numerous books, including the groundbreaking "A Literature of Their Own: British Women Novelists from Bronte to Lessing." A frequent radio and TV commentator in the United Kingdom, she has chaired the Man Booker International prize jury and judged the National Book Awards and the Orange Prize. She divides her time between Washington, D.C., and London.
Praise For…
---
"[A] remarkable book. . . . [Showalter's] approach . . . is unifying and magnanimous. She brings a perspective to changing literary culture that makes criticism seem not only understandable but also healthy and invigorating, making the work timeless in its ability to weather readers' changing priorities. . . . A Jury of Her Peers does an enormous service, house a drop-dead reading list and gives the reader a fluid framework for the great (much of it still undiscovered) wealth of writing by women in this country."
–Susan Salter Reynolds, Los Angeles Times

"A breathtaking overview of the intersections of gender and genre in American letters. . . . Showalter's desire is to move beyond stockpiling the poetry, plays and fiction of American women to a place of thoughtful and active critique. Instead of simply asking, 'Remember these writers?' she further queries, 'And are these writers any good?' Showalter refuses to be either an unthinking cheerleader or an apolitical critic. . . . With its frank assessments, impressive research and expansive scope, A Jury of Her Peers belongs on the shelf of any reader interested in the development of women's writing in America."
–Jennifer Cognard-Black, Ms. Magazine

"By covering the lives and careers of hundreds of American women writers of all backgrounds, this survey is ambitious and galvanizing. . . . the first guide and history ever attempted by one scholar working solo. . . . Showalter's Baedeker showcases the rise and fall of styles and genres. Lives and careers of superstars . . . are put into high relief. The voices of several hundred other authors . . . sing out in a monumental choral orchestrated by Showalter (A Literature of Their Own), a groundbreaking feminist scholar at Princeton."
–Publishers Weekly, starred review

"Elaine Showalter's case for nearly four centuries of American women's writing unfolds in a narrative as gripping as a favorite novel. Smartly paced and peppered with choice anecdotes and telling excerpts, A Jury of Her Peers shows vast knowledge and keen insight delivered with grace and verve. Readers will delight in the discovery of new writers and fresh encounters with familiar figures as Showalter once again proves to be the leading feminist literary authority of our time."
–Cecelia Tichi, William R. Kenan, Jr. Professor of English at Vanderbilt University

"Only Elaine Showalter, our foremost feminist critic, could give us this extraordinary and endlessly intriguing book. It is at once magisterial and delicate, comprehensive and richly detailed, critically acute yet generous. She tells stories of art being made from–and sometimes in spite of–love, marriage, loneliness, housework, politics, motherhood, and hardship. Yet always the writing itself is at the center, as Showalter stakes out the tradition's common ground and illuminates its most startling and stunning creations."
–Christine Stansell, author of American Moderns: New York Bohemia and the Creation of a New Century

"A Jury of Her Peers is a work of astonishing vision, breadth, intelligence, and audacity. Elaine Showalter, long recognized as our preeminent feminist scholar-critic, whose prose shimmers with wickedly funny asides, has produced the most ambitious and brilliantly executed book of her career, one that is sure to be required reading for all who have an interest in American literary history."
–Joyce Carol Oates

"Lucid, lively, and learned, Elaine Showalter's ambitious portraits of notable and forgotten women writers comprise an incomparable literary collage. An extraordinary achievement."
–Sandra M. Gilbert and Susan Gubar, coauthors, The Madwoman in the Attic and coeditors, The Norton Anthology of Literature by Women

"It seems incredible that–until now–no history of American women writers should have been available. Professor Showalter has undertaken an immense task and produced a wonderful book, one which deserves to become a literary landmark. Witty, erudite, thoughtful and stylish, A Jury of Her Peers is deeply researched, beautifully structured and compellingly narrated."
–Miranda Seymour, author of Thrumpton Hall, winner of the 2008 Pen Ackerley Prize for Memoir of the Year

"A masterful achievement.  Thorough yet concise, learned yet lively and entertaining, Elaine Showalter's literary history gives us brilliant accounts of the lives and works of America's women writers, many of whom she has recovered from near literary oblivion.  Her passion for her subjects and her always stimulating opinions will engage many readers, from the first provocative paragraphs about the origin of Susan Glaspell's story, "A Jury of Her Peers," to the final discussion of Annie Proulx's antiheroic rodeo stories.  This is a remarkable book, one that deserves to become a classic."
–Emory Elliot, General Editor, The Columbia Literary History of the United States

"'Why did this woman disappear from literary history?' is the central query posed by Elaine Showalter. It's the question that historians of women's literature seem condemned to repeat in each generation. The disappearing woman might be Susanna Rowson (America's first bestselling novelist) or, as inconceivable as it may seem, a hundred years from now the question could be posed about a Nobel Prize winner named Toni Morrison. That's the point: brilliance, accomplishment, and world-wide fame do not ensure that women's literary reputations last. As eloquent as it is encyclopedic, A Jury of Her Peers is designed to countermand this pernicious historical pattern and celebrate two-hundred and fifty great writers who also happen to be female."
–Cathy N. Davidson, co-editor of the Oxford Companion to Women's Writing in the United States

"A landmark of discovery, synthesis, and acute judgment, A Jury of Her Peers will stand as the defining account of American women's writing for many years to come."
–Eric J. Sundquist, Professor of Literature, University of California Los Angeles

"Out of the many thousands of American women who have published since Anne Bradstreet's Tenth Muse appeared in 1650, the well-known feminist literary critic Elaine Showalter has selected over 250, crafting a thoughtful and provocative narrative history of women struggling, striving, and arriving in the literary marketplace.  The book follows women through four historical stages of literary professionalism from housebound secrecy up to the present day when, finally, they can write as they please about anything they please.  Adroit summaries mesh with sophisticated assessment to produce a book that is certain to take its place on the shelf of every person interested in American literary history."

–Nina Baym, General Editor of the Norton Anthology of American Literature

"Elaine Showalter brings American women writers to life in this immensely readable and illuminating literary history from the Puritans to the present. A rare combination of vivid writing, brilliant analysis and scholarly substance–engaging from beginning to end."

–Wendy Martin, author of An American Triptych: Anne Bradstreet, Emily Dickinson, and Adrienne Rich and editor of We Are the Stories We Tell