sutil arte de que te importe un caraj*: Un enfoque disruptivo para vivir una buena vida (Paperback)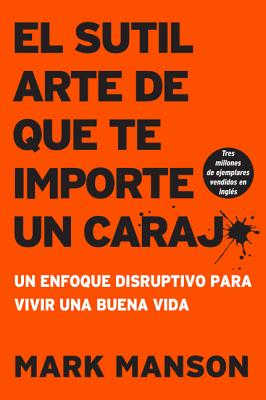 $15.99

Available in our Warehouse: Usually Ships in 3-8 Days
Description
---
Durante los últimos años, Mark Manson -en su popular blog- se ha afanado en corregir nuestras delirantes expectativas sobre nosotros mismos y el mundo. Ahora nos ofrece su toda su intrépida sabiduría en este libro pionero.
Manson nos recuerda que los seres humanos somos falibles y limitados: ""no todos podemos ser extraordinarios: hay ganadores y perdedores en la sociedad, y esto no siempre es justo o es tu culpa"". Manson nos aconseja que reconozcamos nuestras limitaciones y las aceptemos. Esto es, según él, el verdadero origen del empoderamiento. Una vez que abrazamos nuestros temores, faltas e incertidumbres, una vez que dejamos de huir y evadir y empezamos a confrontar las verdades dolorosas, podemos comenzar a encontrar el valor, la perseverancia, la honestidad, la responsabilidad, la curiosidad y el perdón que buscamos.
Este manifiesto es una refrescante bofetada, para que podamos empezar a llevar vidas más satisfechas y con los pies en la tierra.
About the Author
---
Mark Manson is the New York Times bestselling author of The Subtle Art of Not Giving a F*ck (more than ten million copies sold worldwide) and a star blogger. Manson sold more than 250,000 copies of his self-published book, Models: Attract Women Through Honesty. Before long, his off-the-cuff voice was resonating with a much broader audience via his brilliantly counterintuitive essays on happiness. With titles like "The Most Important Question of Your Life," "The Subtle Art of Not Giving a F*ck," and "No, You Can't Have It All," his work was reposted by Elizabeth Gilbert, Chris Hemsworth, Will Smith, and Chelsea Handler. His site—markmanson.net—is read by two million people each month. Manson lives in New York City.