A Year and Six Seconds: A Love Story (Hardcover)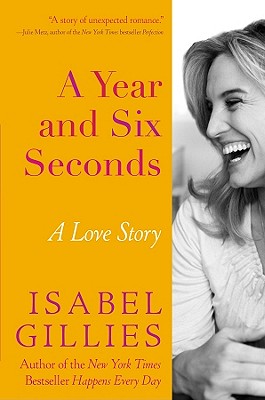 $36.00

Available in our Warehouse: Usually Ships in 3-8 Days
Description
---
A real-life romantic comedy about getting dumped and getting over it

Isabel Gillies, the New York Times bestselling author of Happens Every Day, has written another irresistibly moving and funny memoir: A Year and Six Seconds: A Love Story. When our story opens, it's a dark and slushy winter in New York City, where Isabel is arriving by airplane from Ohio, two toddlers in tow, to move in with her parents; her husband has left her for another woman. In subsequent scene after hilarious scene, Isabel shares her valiant, misguided, and bumbling attempts to understand her own part in the disintegration of her marriage and to feel strong and loveable. And, one by one, she begins to cross items off a staggering single mom to-do list that includes: change last name, get bank account, get work, have breakdowns only in front of best friend and not in front of children, find rare preschool slot for son midyear in Manhattan, get along with three generations of family in tight quarters, find a man who can plant one great and romantic kiss, accept self, accept love, be happy.

She cries, she dates, she (and her mother and father and children) get the flu, and then, just when she least expects it, Isabel falls in love.

With humility and a refreshing sense of humor, Isabel stumbles many times but also laughs, forgives, discovers new treasures from old friends, marries again, and more than that, finds good love itself within and around her.
About the Author
---
Isabel Gillies is the author of Happens Every Day: An All-Too True Story. She graduated from New York University with a BFA in film and is also known for her television role as Detective Stabler's wife on Law and Order: Special Victims Unit and for her cinematic debut in the film Metropolitan. She lives in Manhattan with her second husband, her two sons, and her stepdaughter.
Praise For…
---
"With the same self-effacing prose found in her debut, Gillies describes her journey from the pain of lost love to the land of the living with humor and compassion ... Readers who enjoyed the author's earlier memoir--and books like it--will find her saga engrossing and heartfelt ... Readers will cheer along with the author, whose heart overflows in the conclusion of this enduring story of life after love."—Kirkus Reviews