Dianetics: The Modern Science of Mental Health (Hardcover)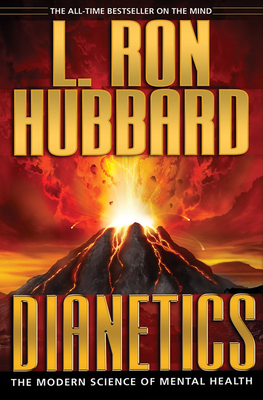 $44.00
This item is not currently available to order.
Description
---
The #1 New York Times bestseller  

With over 22,000,000 copies sold in 50 languages, and used in more than 176 nations, Dianetics brings dramatic and permanent improvement to people all over the world.

"While it's true that Dianetics has become the self-improvement classic, there can be little doubt that what it has to offer is just what people are now looking for in ever increasing numbers. Reducing stress, achieving goals, improving relationships and striving to live up to one's full potential is definitely the in thing." (New York Post)

"Hubbard's bestseller has helped millions, and it should be read and used by all who are searching for a true understanding of the mind and a solution to such problems as self-doubt, stress, anxiety and depression." (World Reporter)

"[Dianetics is] a new science which works with the invariability of physical science in the field of the human mind. From all indications it will prove to be as revolutionary for humanity as the first caveman's discovery and utilization of fire." (Daily Mirror)

If you've ever felt there was something holding you back in life, ruining your plans and stopping you from being who you want to be, you were right.
The fact is, there is a single source of all your problems, stress, unhappiness and self-doubt. It's called the reactive mind—the hidden part of your mind that stores all painful experiences, then uses them against you.

With Dianetics, you can learn to control your reactive mind—freeing you to live an extraordinary life and be your true self.
Don't live with insecurity, negative thoughts, depression and irrational behavior.  Use Dianetics to take control of your future.

Key discoveries contained in Dianetics:
Why do we give up on our dreams?
What is the real cause of depression?
Is there a cure for stress?
How do you reach your full potential?
Why do we hurt the ones we love?
Why are some people prone to illness?
How can you improve your mental health?
Can you conquer your fears?
 Start the adventure—of you. Buy and read Dianetics: The Modern Science of Mental Health.
 
About the Author
---
About the author:
With over two hundred million copies of his works in circulation and dozens of international bestsellers, L. Ron Hubbard has inspired a movement spanning every continent on earth. All told, those works comprise some 5,000 writings and 3,000 recorded lectures and, as such, stand as the single most embracive statement on the human mind and spirit. His breakthroughs have helped millions lead more successful lives and achieve true happiness.
 
Praise For…
---
Dianetics has always been ahead of its time.  More and more people are realizing that Dianetics technology is a vital survival tool for living in the world today.

Atlanta Journal-Constitution
Hubbard holds the distinction of being the world's most translated author, according to the Guinness World Records.

Publishers Weekly
Dianetics can remove the aberrations which make man a selfish and anti-social creature. ... It holds hope that man may at last dispense with the ugly institution of war, because wars are the end product of social aberrations at the national level.

Daily News Los Angeles
FAMILY FINDS HOPE WITH DIANETICS
          Families with handicapped children have new hope for solving the problems of emotional stress and strain that come to a family following the birth of a handicapped child.
          Los Angeles parents Shirley and Steve Young say they found the solution to raising a handicapped son in the book "Dianetics: The Modern Science of Mental Health."
          "Our son was born with deformity of his lower limbs," says Shirley.  "It was necessary for the doctors to amputate both legs just below the knees so that Eric could later be fitted with artificial limbs that would give him a chance for a normal life."
          Their son's condition proved a shock to both mother and father.
          "Eric was our first child," she says.   "I think every mother faces the fear that her child may be born with a handicap, but you think it will never happen to you."
          "When it does it puts enormous stress on the family.  Corrective surgery is very costly.  You have to see that your child gets the special attention that he needs, not only professional attention, but additional caring from the parents," she says.
          The couple's relationship as husband and wife also suffered for a while, says Shirley and Steve.
          "We would find ourselves arguing with one another about what was the best thing to do for Eric," says Steve.   "Everyone says they have the answer, but they all tell you that  your baby will never really grow up to be a normal, well adjusted child because of his handicap.    When you hear that, it hurts you as a parent."
          Both parents, however, refused to accept what they called "a lot of misinformation about children and about the mind."
          "We had both read the book 'Dianetics: The Modern Science of Mental Health' and we knew that a person's physical condition did not in any way influence his mental condition," says Mrs. Young.  "It is quite the other way around."
          Throughout the time her son was being fitted with artificial limbs, the couple applied Dianetics technology both to the baby and to themselves as a family.
          "It made our relationship with one another even stronger.  It helped us raise our son so that he was free from all the false considerations that counselors and psychologists try to force on handicapped children and their parents."
          As a result, Eric is happy, healthy, well adjusted boy today.    He runs, swims and plays baseball.
          "He even climbs trees," says his somewhat chagrined mother.   "I have the same worries that any mother has over a rambunctious six year old."
          "Dianetics was really the solution," she says.  "I tell any mother with a handicapped child to read the book.  It opens the door to solving all the problems that psychologists don't have answers for."
Black Voice                                                                                                                           
February 19, 1987