City of Orphans (Paperback)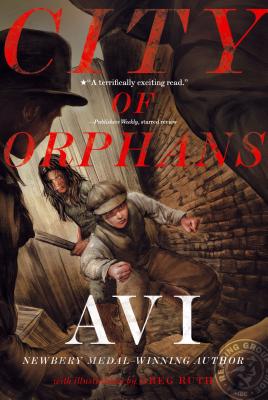 $8.99

Available in our Warehouse: Usually Ships in 3-8 Days
Description
---
Plot twists, big accusations, and plenty of shifty, crooked characters fill the pages of this harrowing adventure from Newbery Medalist Avi.

The streets of 1893 New York are crowded and filthy. For thirteen-year-old newsboy Maks Geless, they are also dangerous. Bruno, leader of the awful Plug Ugly Gang, has set his sights on Maks and orders his boys to track him down. Suddenly Maks finds himself on the run, doing all he can to evade the gang, with only his new friend Willa by his side. And that's just the start of Mak's troubles. His sister, Emma, has been arrested and imprisoned for stealing a watch from the glamorous new Waldorf Hotel. Maks knows she didn't do it—but will he be able to prove it in time?
This is a riveting, quickly paced adventure set against a backdrop alive with the sights and sounds of tenement New York.
About the Author
---
Avi is the author of more than seventy books for children and young adults, including the 2003 Newbery medal winner Crispin: The Cross of Lead. He has won two Newbery Honors and many other awards for his fiction. He lives with his family in Denver, Colorado. Visit him at Avi-Writer.com.
Praise For…
---
CITY OF ORPHANS
Written by Avi and Illustrated by Greg Ruth
(Atheneum; ISBN: 9781416971023; September 2011; Fall Catalog page 51)
"An immigrant family tries to survive crime, poverty and corruption in 1893 New York City. Earning enough money to cover the rent and basic needs in this year of economic panic is an endless struggle for every member of the family. Every penny counts, even the eight cents daily profit 13-year-old Maks earns by selling newspapers. Maks also must cope with violent attacks by a street gang and its vicious leader, who in turn is being manipulated by someone even more powerful. Now Maks' sister has been wrongly arrested for stealing a watch at her job in the glamorous Waldorf Hotel and is in the notorious Tombs prison awaiting trial. How will they prove her innocence? Maks finds help and friendship from Willa, a homeless street urchin, and Bartleby Donck, an eccentric lawyer. Avi's vivid recreation of the sights and sounds of that time and place is spot on, masterfully weaving accurate historical details with Maks' experiences as he encounters the city of sunshine and shadow. An omniscient narrator speaks directly to readers, establishing an immediacy that allows them to feel the characters' fears and worries and hopes. Heroic deeds, narrow escapes, dastardly villains, amazing coincidences and a family rich in love and hope are all part of an intricate and endlessly entertaining adventure. Terrific!"
-- Kirkus July 15, 2011 *STAR


City of Orphans.
Avi (Author) , Ruth, Greg (Illustrator)
Sep 2011. 368 p. Simon & Schuster/Richard Jackson, hardcover, $16.99. (9781416971023).
Dickensian street action comes to New York's Lower East Side in this gripping story, set in 1893, of
newsboy Maks, 13, who feels "hungry twenty-five hours a day." After rescuing a filthy, homeless girl,
Willa, Maks takes her to the crowded tenement he shares with his struggling Danish immigrant family.
Pursued by Bruno, the leader of the Plug Ugly street gang, Maks is desperate to save his sister, Emma,
who was imprisoned after being falsely accused of stealing a watch from the Waldorf Hotel, where she
worked as a cleaner. Just as compelling as the fast-moving plot's twists and turns is the story's social
realism, brought home by the contrasts between the overcrowded, unsanitary slums ("No water, gas,
electricity") and the luxurious Waldorf. Then there are the unspeakable conditions in prison, where, even
as a prisoner, Emma must pay for food. Avi writes in an immediate, third-person, present-tense voice,
mostly from Maks' colloquial viewpoint ("He's full of heartache, but no one is seeing it"), with occasional
switches to Willa and to the desperate young gangster leader. Threading together the drama are tense
mysteries: Is Willa really an orphan? Who stole the watch? Pair this riveting historical novel with Linda
Granfield's 97 Orchard Street, New York: Stories of Immigrant Life (2001), a nonfiction account of Lower
East Side tenements.
--Booklist, August 1, 2011, *STAR


City of Orphans
Avi, illus. by Greg Ruth. S&S/Atheneum/Jackson, $16.99 (368p) ISBN 978-1-4169-7102-3
Thirteen-year-old Maks Geless, the oldest son of Danish immigrants, makes eight cents a day hawking The World on Manhattan street corners in 1893. Newbery Medalist Avi tells his story in a vibrant, unsophisticated, present-tense voice (a typical chapter begins, "Okay, now it's the next day—Tuesday"), and it's a hard life. Maks's sister Agnes has TB, the shoe factory where Agnes and Mr. Geless work is suspending operations, and the grocer and landlord want their accounts paid. Then Maks's oldest sister, Emma, is accused of stealing from a guest at the Waldorf Hotel, where she is a maid. Amid this strife, the good-hearted Gelesses take in Willa, a homeless girl who saved Maks from a street gang. Maks and Willa must prove Emma's innocence, with the help of an odd, possibly dying detective (he's coughing up blood, too). The contrasts among Maks's family's squalid tenement existence; Emma's incarceration in the Tombs, the city's infamous prison; and the splendor of the Waldorf bring a stark portrait of 19th-century society to a terrifically exciting read, with Ruth's fine pencil portraits adding to the overall appeal. Ages 10–14. (Sept.)
--Publishers Weekly, August 22, 2011, *STAR



"Narrating in the present tense, Avi attempts a colloquial, first-person "Lemme tell you how it was" style not normally found in books for middle graders. The opening, which describes Maks so vividly you feel that he's standing right in front of you, strikes the kind of friendly note bound to draw in the average reader. 'Now, this Maks, he's regular height for a 13-year-old, ruddy-faced, shaggy brown hair, always wearing a cloth cap, canvas jacket and trousers, plus decent boots.' In short, he's a 'newsie'…honest-to-goodness historical mysteries are hard to find, and Avi doles out his clues carefully, allowing children the chance to feel smart if they put two and two together."
-- The New York Times Book Review



"Like the intricate inner workings of a fine gold watch from a bygone era, Avi crafts a not-to-be-missed mystery/thriller yarn featuring a colorful cast of mugs and swells and set amidst the opulence and the poverty of nineteenth century Manhattan."
Richie's Picks http://richiespicks.com