One Good Deed: 365 Days of Trying to Be Just a Little Bit Better (Hardcover)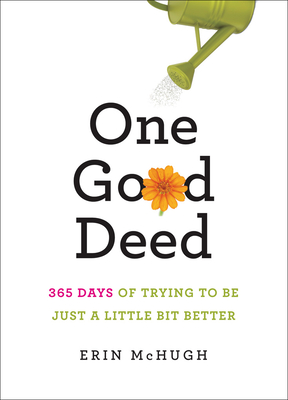 $18.95
Email or call for price.
Description
---
Erin McHugh had spent the better part of her adult life doing community work, but in more recent years, the minutiae of life and working as a bookseller kept her busy and away from those higher impulses. Then one day she learned a distant relative was actually going to be canonized. Was this a sign? What followed next was McHugh's sincere urge to recapture a sense of charity, and so she set out on her birthday to do one good deed every day for an entire year. Maybe she wouldn't be saving orphans from burning buildings, but she wanted to take one small, daily detour and make someone else's life just a little bit better. One Good Deed is the inspiring, smart, and frequently funny chronicle of that year, in which each page represents a day in McHugh's journey to reclaim the better part of herself, inspiring readers to do the same.

Praise for One Good Deed:

"Her memoir will inspire you to flex your do-gooder muscle without being preachy or a Pollyanna." –Fitness

"7 Good Deeds That Could Change Your Life" —Redbook

"Engaging, funny, wise, and winning. One Good Deed is a measure of humanity and of McHugh's own striving towards it."
—Susan Orlean, author of Rin Tin Tin and The Orchid Thief

"This instructive, funny, utterly relevant book reminds us that the simple (but not-so-simple) act of paying daily attention can make a profound difference—to the world around us, and to our very selves."
—Dani Shapiro, author of Devotion: A Memoir

"The best book in the world...because it makes us our best."
—Nichole Bernier, author of The Unfinished Work of Elizabeth D.

About the Author
---
Based in New York City, Erin McHugh is a former publishing executive and the author of more than 25 books, including Like My Mother Always Said, Like My Father Always Said, Like My Teacher Always Said, and One Good Deed.