The Rap Year Book: The Most Important Rap Song From Every Year Since 1979, Discussed, Debated, and Deconstructed (Paperback)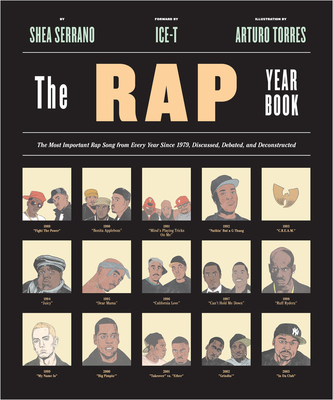 $19.95

Available in our Warehouse: Usually Ships in 3-8 Days
Description
---
New York Times Bestseller - Washington Post Bestseller - Pitchfork Book Club selection

The Rap Year Book takes readers on a journey that begins in 1979, widely regarded as the moment rap became recognized as part of the cultural and musical landscape, and comes right up to the present. Shea Serrano deftly pays homage to the most important song of each year. Serrano also examines the most important moments that surround the history and culture of rap music—from artists' backgrounds to issues of race, the rise of hip-hop, and the struggles among its major players—both personal and professional. Covering East Coast and West Coast, famous rapper feuds, chart toppers, and show stoppers, The Rap Year Book is an in-depth look at the most influential genre of music to come out of the last generation.

Complete with infographics, lyric maps, hilarious and informative footnotes, portraits of the artists, and short essays by other prominent music writers, The Rap Year Book is both a narrative and illustrated guide to the most iconic and influential rap songs ever created.

About the Author
---
Shea Serrano is an award-winning writer, author, and illustrator. His most recent book, The Rap Year Book, reached the bestseller lists of the New York Times and Washington Post, topped the Arts and Entertainment iBooks bestseller list, and was named one of Billboard's Best 100 Music Books of All Time. Currently, Serrano is a staff writer for The Ringer. He lives in Houston, Texas.
Praise For…
---
"The reading equivalent of rocking a boom box on your shoulder."
— GQ

"It's the reading equivalent of a Ken Burns documentary, except with more cuss words
— Esquire

"The Rap Year Book just might be hip-hop's first official encyclopedia."
— Global Grind

"Just might be one of the most important rap tomes in the history of rap tomes."
— Noisey

"Serrano's book is ambitious, historically minded without getting lost in details."
— Texas Monthly

"An in-depth look at the culture surrounding rap, from famous rapper feuds to influential movies."
— Complex

"[A] bold, humorous, and novel treatment of hip-hop's history that makes The Rap Year Book a pleasure to read and absorb, and the kind of ingenuity that doesn't usually have a place in music histories or rigidly structured list-based pop culture reference books but that Serrano refreshingly builds his work around."
— PopMatters

"Deeply informed but willing to get personal and weird, The Rap Year Book deserves to be on the shelf next to Ego Trip's Book of Rap Lists, its clear ancestor and possibly the smartest book about hip-hop ever published."
— BLOUIN ARTINFO

"A combination of deadpan humor and incisive smarts."
— Book Riot

"Just because you memorized the hook from "Trap Queen" doesn't mean you know jack about rap. Do yourself a favor and pick up this expansive, definitive history of the genre, which breaks down the last 36 years one song at a time."
— The Verge

"The Rap Year Book above all intends to capture hip-hop's spirit of banter and love of debating who's best. This isn't a book that's a chore to read; it's one that's a pleasure to argue over. Buy it."
— Vice

"What's key to The Rap Year Book's distinctiveness is that it seeks to discuss 'the most important' song of each year, not the most popular or the bestselling. Everything about it is subjective and debatable."
— The Guardian

"Smart and entertaining and a perfect gift for rap-loving teens."
— Yahoo! Parenting

"Ambitious, beautifully illustrated, and a perfect gift."
— Remezcla

"It's excellent."
— Houston Press online

"It's smart, funny, and highly contentious."
— BuzzFeed

"Shea Serrano and illustrator Arturo Torres have become the Stan Lee and Jack Kirby of online rap-and-sports graphic humor . . . The New York Times–bestselling Rap Year Book . . . is as hilarious as it is insightful."
— WIRED

"I love true originals, and there is nobody quite like Shea right now. It's just a fun book. There's no other way to describe it."
— Bill Simmons, Wall Street Journal

"Even if you only recognize a few names on the list, the book works for just about everyone with an interest in music, comics, hilarious writing, and a carefully researched musical archaeology dig that uncovers the origins of trends that are still happening today."
— Marketplace Weekend

"Required reading for hip-hop fans and hip-hop newbies alike. It's also the funniest thing I've read in years."
— Lin-Manuel Miranda, star and creator of the Broadway sensation Hamilton