Cook Beautiful (Hardcover)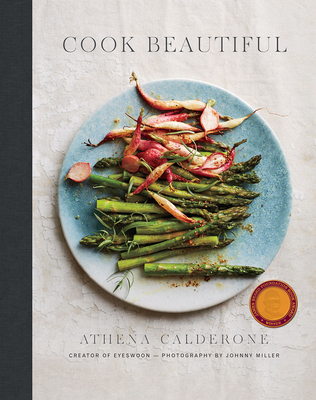 $35.00
Available in our Warehouse: Usually Ships in 3-8 Days
Description
---
The James Beard Award-winning cookbook from Athena Calderone, creator of EyeSwoon, with 100 seasonal recipes for meals as gorgeous as they are delicious.

In Cook Beautiful, Athena reveals the secrets to preparing and presenting unforgettable meals. As the voice and curator behind EyeSwoon, an online lifestyle destination for food, entertaining, fashion, and interior design, Athena cooks with top chefs, hosts incredible dinners, and designs stunning tablescapes, while emphasizing the importance of balancing the visual elements of each dish with incredible flavors. In her debut cookbook, she's finally showing the rest of us how to achieve her impeccable yet approachable cooking style.

Included are 100 recipes with step-by-step advice on everything from prep to presentation—from artfully layering a peach and burrata salad to searing a perfect steak. Recipes include Grilled Zucchini Flatbread with Ramp-Pistachio Pesto, Charred Eggplant with Zaatar and Yogurt Tahini, Mezzi Rigatoni with Radicchio and Guanciale, Stewed Pork with Squash and Walnut Gremolata, Blood Orange Bundt Cake with Orange Bitters Glaze, and more. Organized by season, each section closes with a tablescape inspired by nature, along with specific table décor and entertaining tips.

Cook Beautiful is where design meets food, where culinary tradition marries food styling, where home chefs become experts. These are luscious dishes to make for friends and family, with advice that will inspire you to create visually stunning, and still wholly delicious, culinary masterpieces.
About the Author
---
Athena Calderone is the creator of the lifestyle site EyeSwoon and author of the James Beard award–winning cookbook Cook Beautiful. She lives in Brooklyn, New York.
Praise For…
---
"Athena Calderone proves that simple, delicious dishes can look as good as they taste."
— Adam Rapport
"Athena's cooking is as stylish as she is—if only I could dress as good as she cooks."
— Laura Brown
"In Cook Beautiful, Athena Calderone unites her twin passions of cooking and styling. Her glorious food takes on a magnificent, almost otherworldly, loveliness through an extraordinary use of color, shape, and texture. After studying every picture, I'm ready to replicate it myself!"
— Dana Cowin
"I love how Athena always sees the beauty in food. It's a treat to have an entire book that reflects her amazing vision—and one that's filled with so many incredible recipes."
— Kerry Diamond
"Athena has the Midas touch: Give her simple ingredients and she will create elegant, memorable meals that are familiar but flawless. She understands the art of cooking beautifully, and the food in her mouthwatering manifesto is truly gold."
— Daphne Oz
"We've all swooned over Athena Calderone's impeccable style, and now she shares her secrets to making her food—and table—so gorgeous. The inspiring tips in Cook Beautiful will help you create a feast for the eyes, so you can entertain on an entirely new level."
— Christine Muhlke
"I've always admired Athena as a friend and visionary. Her balance and focus on ingredients make her so good at what she does, and now they've finally come together so perfectly in this book. She sure can cook beautiful!"
— Dan Kluger
"Cook Beautiful is a stunning reminder to look at our plates and market baskets with fresh eyes and an appreciation for the bounty of each season. Athena's thoughtful kitchen insight and artful approach lure you with every recipe. I dare you to resist her call to get cooking!"
— Gail Simmons
"This book is the closest thing to dining at Athena's home, an experience I cherish as it's always full of laughter, beauty, and incredible food. In Cook Beautiful, Athena thoughtfully guides readers through the seasons and shows how a little effort in entertaining can create truly special memories."
— Nate Berkus
"In Cook Beautiful, Athena teaches aspiring home chefs how to prepare meals that are not only beautiful, but also nourishing for the body and soul."
— Lauren Bush
"Athena's warmth, curiosity, and beauty are effortlessly translated into everything she creates, making our mouths water and eyes swoon in Cook Beautiful!"
— Carolyn Murphy
"Style and beauty are what Athena brings to anything she does. She is one of these magicians that make you wonder how it's done, but then she's also the great friend who will explain to you how to do it. And you're like 'I can't believe it was that simple!'—the nature of inspiration, in other words!"
— Garance Doré
We appreciate your continued support!
If you would like to make a donation to help us through CLICK HERE.