Mending Matters: Stitch, Patch, and Repair Your Favorite Denim & More (Hardcover)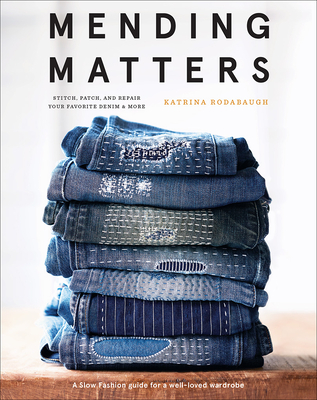 Staff Reviews
---
This is the book that introduced me to the layers of importance that underlie our clothing choices. Maybe, like me, you have felt that by shopping secondhand and donating castoffs you are doing "enough". This well-written and beautifully illustrated book is both deeply inspiring and crucially informative.
— Patty
Description
---
Mending Matters explores sewing on two levels: First, it includes more than 20 hands-on projects that showcase current trends in visible mending that are edgy, modern, and bold—but draw on traditional stitching. It does all this through just four very simple mending techniques: exterior patches, interior patches, slow stitches, darning, and weaving. In addition, the book addresses the way mending leads to a more mindful relationship to fashion and to overall well-being. In essays that accompany each how-to chapter, Katrina Rodabaugh explores mending as a metaphor for appreciating our own naturally flawed selves, and she examines the ways in which mending teaches us new skills, self-reliance, and confidence, all gained from making things with our own hands.
About the Author
---
Katrina Rodabaugh is an award-winning artist and writer working across disciplines to explore environmental and social issues through craft techniques. Her writing and work have appeared in the New York Times, Boston Globe, Martha Stewart Living,Mother Earth Living, Sewing Magazine, Sunset magazine, Sweet Paul Magazine, Taproot magazine, and more. Rodabaugh teaches and speaks at craft gatherings across the United States, including to standing-room only crowds at the popular New York State Sheep & Wool Festival. Rodabaugh currently lives in the Hudson Valley of New York.
Praise For…
---
"I'm excited for Mending Matters and for Katrina's work that offers new directions within the sustainable fashion community. It creates solutions, draws on handcraft heritage, and widens the opportunities to connect with Slow Fashion through simple stitching."
— From the foreword by Natalie Chanin

"Our clothes can have a long history, if we let them. Mending is a way of ensuring a longer life for the clothes we wear and maintaining our long relationship with them. Human hands should always be a part of the making of fashion and Mending Matters helps inspire that long story. Because #lovedclotheslast."
— Fashion Revolution

"This book is a joy—I love how Katrina combines practicality and a lightness of touch with a deep understanding of the issues that drive the Slow Fashion movement. Her creative, considered, and beautiful approach to mending and making is exactly what we need in this moment of overconsumption and fading connections to our clothing and textiles. Thank you, Katrina, for helping rekindle our love affair with clothes built to last and hold memories."
— Clare Press
We appreciate your continued support!
If you would like to make a donation to help us through CLICK HERE.