Women on Food: Charlotte Druckman and 115 Writers, Chefs, Critics, Television Stars, and Eaters (Paperback)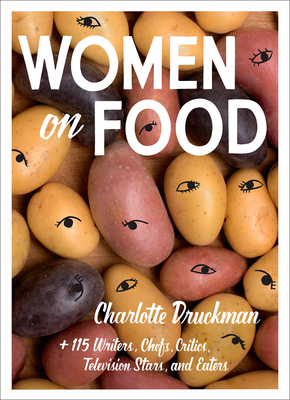 Staff Reviews
---
This book does what it says on the tin: it's a random selection (in the best possible sense) of essays, interviews, and journalism about women, and food. The writing styles vary widely, the opinions are strong, and the authors often simply disagree with each other, something which is unfortunately surprising. It's the perfect book to pick up and read a chunk of when you have ten minutes to get some reading in. It's thoroughly delightful, and yes, you *will* get hungry while reading it.
— Agnes
Description
---
Women on Food unites the radical, diverging female voices of the food industry in this urgent, moving, and often humorous collection of essays, interviews, questionnaires, illustrations, quotes, and ephemera.

Edited by Charlotte Druckman and featuring esteemed food journalists and thinkers, including Soleil Ho, Nigella Lawson, Diana Henry, Carla Hall, Samin Nosrat, Rachael Ray, and many others, this compilation illuminates the notable and varied women who make up the food world. Exploring issues from the #MeToo movement, gender bias in division of labor and the workplace, and the underrepresentation of women of color in leadership, to cultural trends including food and travel shows, the intersection of fashion and food, and the evolution of food writing in the last few decades, Women on Food brings together food's most vital female voices.

About the Author
---
Charlotte Druckman is a journalist, food writer, and creator of Food52's Tournament of Cookbooks (a.k.a. The Piglet). She is the author of Stir, Sizzle, Bake and Skirt Steak: Women Chefs on Standing the Heat & Staying in the Kitchen, and coauthor of Anita Lo's Cooking Without Borders. Druckman resides in New York.
Praise For…
---
Druckman presents an entertaining and thought-provoking "variety show" of previously unpublished essays, interviews, and ephemera from women working in the world of food...This celebration of women's influence in the industry and primer on the discrimination they still face will satisfy foodies and feminists alike.
— Publishers Weekly
"A potent reminder of just how much women shape and are shaped by the culture of food."
— The New York Times
"It's sharp, witty, entertaining and has insights from a host of brilliant food writers."
— The Guardian
"a thought-provoking and sometimes anger-inducing tome that should be required reading for anyone working in the restaurant business, or anyone interested in the gender politics of food."
— The Times
We appreciate your continued support!
If you would like to make a donation to help us through CLICK HERE.