Beeple: Everydays, the First 5000 Days (Hardcover)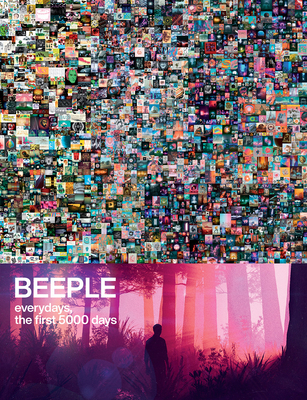 $65.00
This item is not currently available to order.
Description
---
Beeple: Everydays, the First 5000 Days is the first monograph dedicated to artist Mike Winkelman, aka Beeple, who is known for his daily digital creations: from twisted pop-culture caricatures to breathtaking sci-fi landscapes.

Already a celebrity within the community of digital artists and on social media, Beeple became a global phenomenon on March 11, 2020, when Christie's sold a digital work of his for more than $69 million, launching the NFT (non-fungible token) craze.

This monograph brings together Beeple's first 5,000 images, created and posted daily by the artist since May 2007, and also features an interview with the author wherein he reflects on his career and newfound celebrity.
About the Author
---
Mike Winkelmann is a graphic designer from Charleston, South Carolina, who does a variety of digital artwork including short films, Creative Commons VJ loops, everydays, and VR/AR work. After releasing a set of widely used Creative Commons VJ loops, he worked on concert visuals for Justin Bieber, One Direction, Katy Perry, Nicki Minaj, Eminem, Zedd, and deadmau5, among others. His clients include Louis Vuitton, Apple, Nike, Coca-Cola, and Pepsi.