Salad Freak: Recipes to Feed a Healthy Obsession (Hardcover)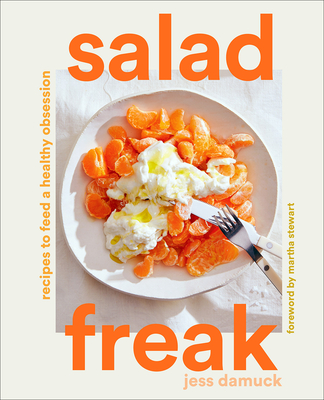 Staff Reviews
---
A bright feast for the eyes, with a flexible definition of salad. Damuck is an excellent stylist who really takes pleasure in vegetables and greens -- and she pairs them with the most decadent accompaniments to make them sing. What if salad prompted us to explore, or play? (For a Jess Damuck-inspired "Ari salad", try a tin of golden smoked herring, gorgonzola, a dark vinaigrette or balsamic, and thin-sliced crisp pear over your favorite greens -- like tender baby lettuce or arugula.) Or consider Damuck's own BLT potato salad.
— Ari
Description
---
A USA Today and Publishers Weekly bestseller, Salad Freak features delicious and beautiful recipes from Martha Stewart's personal salad chef and the self-proclaimed "Bob Ross of salads."

Foreword by Martha Stewart

Offering more than 100 inspired recipes, recipe developer and food stylist Jess Damuck shares her passion for making truly delicious salads. Salad Freak encourages readers to discover and embrace their own salad obsessions. With the right recipes, you will want to eat salad for every meal and never get bored.

By playfully combining color, texture, shape, and, of course, flavor, Damuck demonstrates how a little extra effort in the kitchen can be meditative, delicious, and fun. The recipes—such as her Citrus Breakfast Salad; Tea-Smoked Chicken and Bitter Greens Salad; Caesar Salad Pizza Salad; and Roasted Grapes, Ricotta, Croutons, and Endive Salad—are meant to be hearty enough for a meal all year round but versatile enough to be incorporated into a larger menu.

For Damuck, the perfect salad balances each bite, with something tart enough to twinge your cheeks, something sweet to balance out the bitter, and something with a little salty crunch to finish. Salad Freak is not just about eating to feel good; it's about confidently combining flavors to create fresh, bright, and satisfying meals that you will want to make again and again.

Includes color photographs
About the Author
---
Jess Damuck has worked with Martha Stewart for the past decade as a food editor, producer, food stylist, and personal salad maker, including on VH1's Martha and Snoop's Potluck Dinner Party. Damuck has also worked at Bon Appétit, Food Network, Apartment Therapy, and Vox Creative, and has produced thousands of food-related web videos for clients. She does an Instagram show called #3hoursalads and has a monthly menu and playlist newsletter called Something Fussy. She guest-starred with Stewart in one of the final episodes of HBO's High Maintenance. She lives in both Brooklyn and Los Angeles.
Praise For…
---
"If Alison Roman is the queen of stews, Damuck easily reigns in the kingdom of salads."—Publishers Weekly (starred review)

"Damuck has reclaimed salads for those of us who have given up counting calories and calculating macros and instead just want to delight in the fresh colors and flavors every season offers."—Paste Magazine

"In a quirky book, she shares her "healthy obsession" with how to mix-and-match flavors, colors and textures so well that you could eat salad for three meals a day and never get bored. That's an intriguing concept for those of us short on time and stuck in a food rut. While most of us are not so fortunate as Stewart to have a personal salad chef, we can still eat like we do."—TIME

"I love that Damuck offers more than just recipes; the book includes her tips on washing and storing greens, a list of what to keep on hand for future salads, and even her Spotify playlist of music to make salads by. I'll be crunching along all spring and summer with this book."—Food & Wine

"Jess Damuck, a food stylist and recipe developer, is out to change our perception of salad. Her new cookbook, Salad Freak: Recipes to Feed a Healthy Obsession, is all about, as she writes in the introduction, salad becoming "something of its own art form." She explains that, in many ways, anything can be a salad. There are recipes to make a salad for any meal of the day, as something to accompany other dishes, or to be the main event—and even some that are sort of secret salads, like Caesar Salad Pizza, Yellow Gazpacho, and Carrot Saffron Socca."—Food52

"In her first cookbook, our friend tosses salads together in a whole new way: They're irresistible, exciting, and delicious any time of day."—Martha Stewart Living

"The book fittingly has an intro from Stewart herself, advises home cooks on the best salad essentials to keep in their pantry, and provides recipes for hearty and unique produce combinations that firmly cement salad as a main dish rather than a side."—Thrillist