Easy Money: Cryptocurrency, Casino Capitalism, and the Golden Age of Fraud (Hardcover)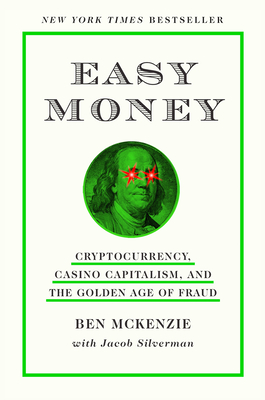 $28.00

Coming Soon - Available for Pre-Order Now
Description
---
From a famous actor and an experienced journalist, a wildly entertaining debunking of cryptocurrency, one of the greatest frauds in history and on course for a spectacular crash

At the height of the pandemic, TV star Ben McKenzie (The O.C., Gotham) was the perfect mark for cryptocurrency: a dad stuck at home with some cash in his pocket, worried about his family, armed with only the vague notion that people were making heaps of money on something he—despite a degree in economics—didn't entirely understand. Lured in by the promise of taking power from banks, possibly improving democracy, and sure, a touch of FOMO, McKenzie dove deep into blockchain, Bitcoin, and the various other coins and exchanges on which they are traded.

But after scratching the surface, he had to ask, "Am I crazy, or is this all a total scam?" In Easy Money, McKenzie enlists the help of journalist Jacob Silverman for a caper and exposé that points in shock to the climactic final days of cryptocurrency now upon us. Weaving together stories of average traders and victims, colorful crypto "visionaries," Hollywood's biggest true believers, anti-crypto whistleblowers, and government agents searching for solutions at the precipice of a major crash, Easy Money is an on-the-ground look at a perfect storm of 2008 Housing Bubble–level irresponsibility and criminal fraud potentially ten times more devastating than Bernie Madoff.
About the Author
---
Ben McKenzie has been a fixture on TV for more than two decades, first capturing audiences in the pop culture phenomenon The O.C. Most recently, he played the lead role on Fox's hit series Gotham, on which he also directed and wrote episodes. He recently appeared in Amazon's political drama The Torture Report, and in 2020, he starred in Grand Horizons, which received a Tony Award nomination for Best New Play. McKenzie graduated magna cum laude from the University of Virginia with degrees in economics and foreign affairs. Jacob Silverman is a journalist writing about technology and national security for the New Republic. His work has appeared in the New York Times, Slate, the Los Angeles Times, BookForum, Politico, and many other publications. In April 2012, he was a three-day Jeopardy! champion. Both live in Brooklyn, New York.
Praise For…
---
"If you're looking for a smart, savvy road map through the mayhem of the cryptocurrency madness, Easy Money is the guidebook for you. Ben McKenzie has given us a wry and knowing saga of his personal quest to expose the crypto charlatans, and his sleuthing uncovers a world of frauds, true believers, and opportunists that you won't soon forget."
— Ron Chernow, Pulitzer Prize–winning and New York Times bestselling author of Alexander Hamilton and The House of Morgan

"Ben McKenzie takes us on an amazing journey, guiding us through the astounding story of how a bizarre cast of swindlers and scammers persuaded millions of people to take leave of their senses and part with trillions of dollars, only to put them into the surreal and illusory world of so called 'crypto assets' and watch them vanish into thin air. When it is all over, the last couple of years will prove to have been one of the strangest episodes in the history of money."
— Liaquat Ahamed, Pulitzer Prize–winning author of Lords of Finance

"Ben McKenzie's Easy Money is a perfectly timed page-turner that gets to the heart of the fundamental scam that was (and is) the mania around cryptocurrency. It's a devastatingly well-told story of greed, con men, and endless gullibility. McKenzie goes down the rabbit hole, only to become a full-throated skeptic who then takes us along on his journey of enlightenment and discovery, proving once again that if something seems too good to be true, it probably is."
— William D. Cohan New York Times bestselling author of Power Failure and House of Cards

"Superb . . . the terrible story of our economic times."
— Julian Zelizer, coeditor of Myth America and professor of history and public affairs at Princeton University

"Easy Money is a deceptively ambitious project—at once a riveting account of the financial crime of the century, and a thoughtful meditation on the nature of democracy and what we owe each other."
— Zachary Carter, author of The Price of Peace: Money, Democracy, and the Life of John Maynard Keynes