Broken (Deep Ops #3) (Mass Market)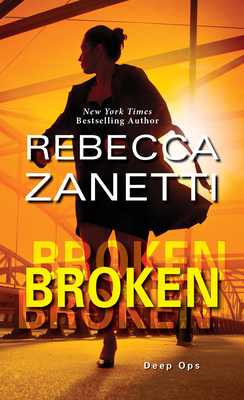 $7.99

Available in our Warehouse: Usually Ships in 3-8 Days
Other Books in Series
This is book number 3 in the Deep Ops series.
Description
---
An Amazon Best of the Year Selection

Dangerous: Former Navy SEAL Clarence Wolfe's unit was taken out with a land mine. Injured and devastated, he hasn't been quite right since. Worse, the tragedy was no accident. All Wolfe wants now is to take down the man responsible. In the meantime, he's good with being the muscle for the Deep Ops team—and leading a steamy no-strings-attached personal life. Until one intriguing woman changes everything . . .
 
Determined:  Reporter Dana Mulberry is on a mission to avenge the death of a fellow journalist. She's finally hot on a trail—right to a sex club—where she runs into . . . Wolfe? It seems both their leads have led to the same spot. To keep from blowing their covers, they'll have to at least pretend to have a little fun. Trouble is, they genuinely like each other. And that's way too risky for Wolfe, especially when, to his surprise, Dana agrees . . .
 
Complicated:  Drawn to each other in ways they can't understand, Wolfe and Dana keep it professional—until they're shot at one night. And when their adventures land them both at the heart of corruption in D.C.—and at odds in their missions—they'll have to dig deeper than ever to succeed in their quests—and with each other . . .
 
Praise for Hidden
 
"Sexy, sizzling, packed with action and danger—a real page turner."
—New York Times bestselling author Kat Martin
 
 "Explodes with action, spice and humor."
—Publishers Weekly
 
"Fans of J. D. Robb and Karen Robards will love Zanetti's series
start."
—Booklist
About the Author
---
Rebecca Zanetti is the New York Times  and USA Today bestselling author of over forty romantic suspense, dark paranormal, and contemporary romances, many of which have also appeared on the Amazon, Barnes and Noble, and iBooks bestseller lists. She is a two-time RT Reviewers Choice Award winner, the recipient of the RWA Daphne du Maurier Award, a five-time Daphne du Maurier Award finalist, a PRISM Award winner, and a two-time PRISM Award finalist. Nearly a dozen of her novels have been selected as Amazon Best Romances of the Month, including Lethal Lies and Mercury Striking, which were also Amazon Best Books of the Year. Zanetti has worked as an art curator, Senate aide, lawyer, college professor, and a hearing examiner—only to culminate it all in stories about alpha males and the women who claim them. Please visit her online at RebeccaZanetti.com.
Praise For…
---
"In the fiery, action-packed third romantic suspense novel of the Deep Ops series, Zanetti gleefully revisits the rough and ready (and sometimes ridiculous) Homeland Defense Department's band of merry misfits… Their chemistry inevitably ignites into all the blistering sex scenes fans expect, and Zanetti introduces some exciting new faces along the way. Series readers will be chomping at the bit for what comes next."
—Publishers Weekly
 
"If a team of misfit agents, a dog with a drinking problem, and a swoon-worthy romance with an intense case sound like your kinda thing…. run don't walk to grab Broken by Rebecca Zanetti. Part of the Deep Ops series, I love this group of agents and their romances…The perfect escape read." 
—Caffeinated Book Reviewer
 
"This is definitely my favorite Rebecca Zanetti series." 
—eBookObsessed
 
"It kept me sitting on the edge of my seat."
—Maureen's Books
 
"I believe that most readers who have followed the 'Deep Ops' series have been waiting for Wolfe's story – I freely admit that he's been on my radar since I first met him and his story went beyond what I was hoping for… Always fast-paced action, intriguing clues, the sizzling chemistry between Wolfe and Dana, and a plot that flows smoothly while always keeping me on my toes waiting for what happens next."
—Keeper Shelf
 
"RZ always does a great job of throwing in unexpected plot twists, and this book was no different. There were many times I actually gasped out loud. The action was crazy, and the climax of the story was INTENSE—all caps…. Overall, Rebecca Zanetti is one of my favorite authors for a reason! She brings the heat, the action, and the character depth every time. I can't wait to see where the next installment takes us."
—Romance Reader
 
"It's Rebecca Zanetti of course the book was great! Zanetti is easily one of my favorite authors."
—Books 'n Kisses
 
"BROKEN is a thrill ride just as all books by author Rebecca Zanetti are, but this is one readers have wanted for a long time… it is exactly everything expected and desired. Readers will get hit with various emotions, action, danger and drama, but we also get to hints of what is normal for the team."
—Fresh Fiction
 
"Between Wolfe's no-nonsense snark, Dana's stubborn feistiness and the raging attraction blazing between the two of them, it's a recipe for awesome, and we get an intense, exciting, banter and chemistry-filled story."
—Escapist Book Blog
 
"BROKEN is a story of betrayal and vengeance; family, friendships, relationships and love. The premise is fast-paced, energetic and dramatic; the characters are strong-willed, energetic and captivating; the romance is seductive and hot."
—The Reading Café


Praise for Rebecca Zanetti's Deep Ops Series:

"Complex but never convoluted…there's thankfully little hemming and hawing about real feelings or propriety, and much more thoughtful grappling with thornier issues…The couple must also negotiate the power dynamics in their relationship — sexually, professionally and physically. Maybe most impressive, though, is the comedy Zanetti weaves through the suspense…for Brigid and Raider as a couple, humor surfaces in even their tensest moments, giving the high-stakes drama humanity and warmth. Zanetti's action sequences are sharp and dynamic."
—The New York Times Book Review on FALLEN

"Simon Cowell used to tell singers he loved on "American Idol" that they could "sing the phone book" to him and he'd be happy. I feel the same way about Rebecca Zanetti—she could regale me with a trip to the grocery store and I'm sure it would be spectacular… All the hallmarks of a Zanetti book (which cause a Pavlovian response in me any time I see her books on the shelves) are present: richly developed characters, robust plots, exciting suspense and hot, sexy times. She is, quite simply, one of my favorite authors and the world is all the better for having her in it."
—Bookpage on FALLEN

"The blend of memorable personalities found on the Deep Ops team, combined with a slowly teased-out bigger story arc, makes for a deliciously inviting and immersive story."
—Publishers Weekly on FALLEN

"Zanetti successfully balances the romance with the escalating mystery of why a U.S. senator is mixed up with a young Irish mobster…Brigid and Raider's love affair is the star of this carefully constructed and well-paced work of romantic suspense. The central romance is enhanced by a pleasingly tangled suspense plot."
—Kirkus Reviews on FALLEN

"The first installment in Zanetti's new, steamy romantic-suspense series, Deep Ops, starts with a bang, and quirky secondary characters will make readers long for the next tale. Fans of J. D. Robb and Karen Robards will love Zanetti's series start."
—Booklist on HIDDEN
 
"The suspense is chilling and the romance is hot in Rebecca Zanetti's Hidden…The ticking clock plot stretches the nerves, but Zanetti balances this with touches of humor – a dog in high heels! – and the burgeoning bond between lovers in her engrossing, entertaining read."
—Bookpage on HIDDEN

"Zanetti's…romantic thriller explodes with action, spice and humor….Beautifully developed characters pair well with an enticingly suspenseful story to create just enough tension to capture readers without becoming overwhelming."
—Publishers Weekly on HIDDEN

"Zanetti's chilling romantic suspense novels keep me on edge until I've turned the last page, and Hidden, the first book in her new Deep Ops series, continues that winning streak… Sizzling, dark, and sometimes creepy, this is a perfect read as the nights get longer and colder." 
—The Amazon Book Review  on HIDDEN
 
"Superb, with wonderful main characters and quirky secondary characters, compelling and intense dialogue."
—Harlequin Junkie, Recommended Read for HIDDEN