Pacifists in Chains: The Persecution of Hutterites During the Great War (Young Center Books in Anabaptist and Pietist Studies) (Paperback)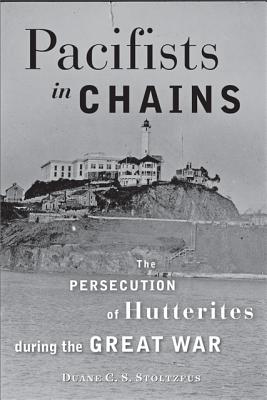 $47.25

Available in our Warehouse: Usually Ships in 3-8 Days
Description
---
Documents the disturbing history of four pacifists imprisoned for their refusal to serve during World War I.
To Hutterites and members of other pacifist sects, serving the military in any way goes against the biblical commandment "thou shalt not kill" and Jesus's admonition to turn the other cheek when confronted with violence. Pacifists in Chains tells the story of four young men--Joseph Hofer, Michael Hofer, David Hofer, and Jacob Wipf--who followed these beliefs and refused to perform military service in World War I. The men paid a steep price for their resistance, imprisoned in Alcatraz and Fort Leavenworth, where the two youngest died. The Hutterites buried the men as martyrs, citing mistreatment.
Using archival material, letters from the four men and others imprisoned during the war, and interviews with their descendants, Duane C. S. Stoltzfus explores the tension between a country preparing to enter into a world war and a people whose history of martyrdom for their pacifist beliefs goes back to their sixteenth-century Reformation beginnings.
About the Author
---
Duane C. S. Stoltzfus is a professor of communication at Goshen College and the copy editor of The Mennonite Quarterly Review.