The Annihilation of Nature: Human Extinction of Birds and Mammals (Hardcover)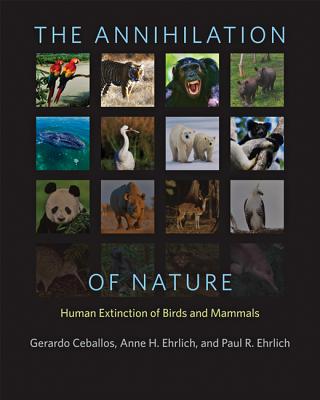 $32.95
This item is not currently available to order.
Description
---
Environmental scientists reveal the victims of humanity's massive assault on nature.
Gerardo Ceballos, Anne H. Ehrlich, and Paul R. Ehrlich serve as witnesses in this trial of human neglect, where the charge is the massive and escalating assault on living things. Nature is being annihilated, not only because of the human population explosion, but also as a result of massive commercial endeavors and public apathy. Despite the well-intentioned work of conservation organizations and governments, the authors warn us that not enough is being done and time is short for the most vulnerable of the world's wild birds and mammals. Thousands of populations have already disappeared, other populations are dwindling daily, and soon our descendants may live in a world containing but a minuscule fraction of the birds and mammals we know today.
The Annihilation of Nature is a clarion call for engagement and action. These outspoken scientists urge everyone who cares about nature to become personally connected to the victims of our inadequate conservation efforts and demand that restoration replace destruction. Only then will we have any hope of preventing the worst-case scenario of the sixth mass extinction.
About the Author
---
Gerardo Ceballos, one of the world's leading ecologists, is a professor at the Institute of Ecology at National Autonomous University of Mexico (UNAM). He is the author of Mammals of Mexico and Diversity of Mexican Fauna. Anne H. Ehrlich is a senior research scientist emeritus at Stanford University. She is the coauthor of Extinction: The Causes and Consequences of the Disappearance of Species and The Dominant Animal: Human Evolution and the Environment. Paul R. Ehrlich is the Bing Professor of Population Studies and the president of the Center for Conservation Biology at Stanford University. Among his more than 40 books are The Population Bomb and Human Natures: Genes, Cultures, and the Human Prospect.