The Road to Universal Health Coverage: Innovation, Equity, and the New Health Economy (Paperback)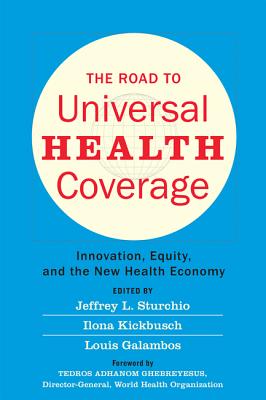 $48.10
This item is not currently available to order.
Description
---
How can countries chart their own course toward universal health coverage?
Like many ambitious global goals, universal health coverage (UHC) remains an aspiration for many countries. The World Health Organization estimates that half the world's population lacks access to basic health services. Moreover, this already staggering number masks inequities that exist between and within countries: gaps between rich and poor, men and women, young and old, and among people of different ethnic backgrounds. UHC promises to give all people greater access to higher quality health services without the fear of financial hardship. But the task of turning this vision into reality poses a significant challenge for countries at all stages of economic development.
In The Road to Universal Health Coverage, Jeffrey L. Sturchio, Ilona Kickbusch, Louis Galambos, and their contributors explore the ways in which the private sector is already helping countries achieve universal health coverage. Stressing the many positive aspects of UHC developments, the book focuses on the new health economy and the sometimes controversial dimensions of the private sector helping countries achieve UHC. Theoretical chapters are complemented by a series of case studies that explore the myriad ways in which private sector actors are already addressing UHC.
What are the conditions required for countries to translate their successful experiences and policy promises into practical results for improved population health? In answering this question, the contributors examine the relationship between health employment and economic growth. They also analyze the critical success factors for private sector engagement in UHC, the role of healthy women in creating and sustaining healthy economies, and the role of the pharmaceutical sector. Looking to the political, economic, and social implications of moving from aspiration to implementation, The Road to Universal Health Coverage points the way to the many opportunities ahead as companies continue to work with governments and civil society partners to help achieve UHC.
Jean-Louise Arcand, H ctor Arreola-Ornelas, Nathan J. Blanchet, Christine Bugos, Jim Campbell, John Campbell, Jr., Ibadat Dhillon, Donika Dimovska, Christian Franz, Michael F rst, Louis Galambos, Bel n Garijo, Adeel Ishtiaq, Sowmya Kadandale, Ilona Kickbusch, Felicia Marie Knaul, Jeremy Lauer, Robert Marten, Justin McCarthy, Harald Nusser, K. Srinath Reddy, Yasmine Rouai, Jeffrey L. Sturchio, Cicely Thomas, Tana Wuliji, Snow Yang, Pascal Zurn
About the Author
---
Jeffrey L. Sturchio is the president and CEO of the global health strategy consultancy Rabin Martin and a visiting scholar at the Johns Hopkins Institute for Applied Economics, Global Health, and the Study of Business Enterprise. Ilona Kickbusch is the director of the Global Health Centre at the Graduate Institute of International and Development Studies in Geneva. She is a coeditor of The European Union as a Global Health Actor. Louis Galambos is Research Professor of History and co-director of the Institute for Applied Economics, Global Health, and the Study of Business Enterprise at Johns Hopkins University. With Jeffrey L. Sturchio, he is the editor of Noncommunicable Diseases in the Developing World: Addressing Gaps in Global Policy and Research.