The Breast Cancer Book: A Trusted Guide for You and Your Loved Ones (Johns Hopkins Press Health Books) (Paperback)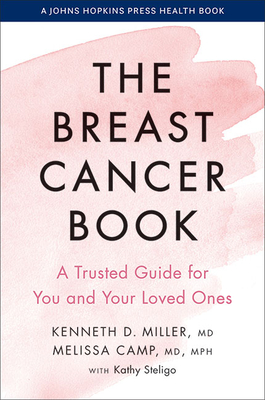 Description
---
A comprehensive, down-to-earth guide for anyone diagnosed with breast cancer.
Being diagnosed with breast cancer can be scary and confusing. There are medical terms to learn, options to consider, and important decisions to make, all while trying to carry on with work, family, and life. The Breast Cancer Book can't reverse a diagnosis or make breast cancer disappear, but every page can inform and empower you or your loved ones, no matter where you are in the breast cancer experience.
Written by three trusted experts--an oncologist, a breast surgeon, and a two-time breast cancer survivor--this multidisciplinary book walks you through everything you need to know about breast cancer so that you can make the best decisions about diagnosis, treatment, and follow-up care. In plain, easy-to-understand language that illuminates all the facets of this disease, the authors draw on their professional experience and the most current scientific knowledge to
- describe the risk factors for breast cancer;
- explain the various tests used to detect cancer;
- clarify the full range of treatment options, from surgery, chemotherapy, and radiation to newer combination therapies;
- provide insight from experts in genetics, radiation oncology, and breast reconstruction;
- present inspirational true stories of breast cancer survivors; and
- simplify complex concepts with detailed graphics, tables, illustrations, and photographs.
A crash course on breast cancer that will help get you or anyone you love through the physical and emotional challenges of the disease, The Breast Cancer Book will also help readers communicate with their cancer team. Packed with information, this compassionate guide is the most up-to-date book available.
About the Author
---
Kenneth D. Miller, MD, a medical oncologist at the Alvin & Lois Lapidus Cancer Institute at Sinai Hospital of Baltimore, is the past director of outpatient oncology at the University of Maryland's Greenebaum Cancer Center. He is the editor of Choices in Breast Cancer Treatment: Medical Specialists and Cancer Survivors Tell You What You Need to Know. Melissa Camp, MD, MPH is a breast surgical oncologist at Johns Hopkins Hospital and the Johns Hopkins Breast Center. Freelance writer Kathy Steligo, a two-time breast cancer survivor, is the author of The Breast Reconstruction Guidebook and the coauthor of Confronting Chronic Pain and Confronting Hereditary Breast and Ovarian Cancer.