Yu-Gi-Oh!: Millennium World, Vol. 4 (Paperback)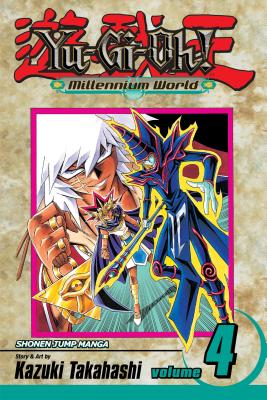 $7.95
This item is not currently available to order.
Other Books in Series
This is book number 4 in the Yu-Gi-Oh!: Millennium World series.
Description
---
The final saga of the Yu-Gi-Oh! epic! After many deadly duels, Yugi has collected the three Egyptian God Cards, the key to remembering his own past life as an Egyptian pharaoh. When the cards take Yugi's soul back in time, can he defeat the villains of the past and achieve his ultimate destiny?

The mysterious Zorc Necrophades rewinds time, forcing Yu-Gi-Oh to fight Bakura all over again…only this time without the Egyptian Gods! As the kingdom searches for a savior, High Priest Seto awakens an awesomely powerful new monster, the Blue-Eyes White Dragon. But will it be enough? Returning to the ruins of Kul Elna, the village where the Millennium Items were made, Bakura prepares to complete the dark ritual that will unleash the evil god Zorc Necrophades…in the modern world!

Exclusive Yu-Gi-Oh! trading card included
About the Author
---
Original Yu-Gi-Oh! creator Kazuki Takahashi first tried to break into the manga business in 1982, but success eluded him until Yu-Gi-Oh! debuted in the Japanese Weekly Shonen Jump magazine in 1996. Yu-Gi-Oh!'s themes of friendship and competition, together with Takahashi's weird and wonderful art, soon became enormously successful, spawning a real-world card game, video games, and six anime series (two Japanese Yu-Gi-Oh! series, Yu-Gi-Oh! GX, Yu-Gi-Oh! 5D's, Yu-Gi-Oh! Zexal, and Yu-Gi-Oh ARC-V).