JoJo's Bizarre Adventure: Part 3--Stardust Crusaders (Single Volume Edition), Vol. 11: D'Arby the Gambler (Paperback)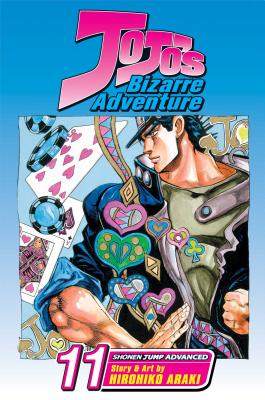 $10.99
This item is not currently available to order.
Description
---
An epic horror-action-adventure! Once there was a mighty bloodline of heroes: the Joestars. In the 1880s, Englishman Jonathan Joestar gave his life to defeat Dio, a megalomaniacal vampire. Now, 100 years later, Dio is back, and Jonathan's descendants must travel to Egypt to destroy their ancestral enemy once and for all.

"Would you like to play a game?" In a café in the shadow of the pyramids, a sharp-dressed man challenges the heroes to a game of chance. But what starts as a simple bet turns into their deadliest challenge so far...
About the Author
---
Hirohiko Araki made his manga debut in 1981 with the Wild West story Busô Poker. He experimented with several genres, including mystery (Mashonen B.T.) and action-horror (Baoh), before beginning JoJo's Bizarre Adventure in 1986. Propelled by imaginative storylines, weird imagery and individualistic artwork, JoJo's Bizarre Adventure is one of the longest-running and most popular shonen manga ever. Araki's current works include a new series set in the JoJo universe, JoJolion.