JoJo's Bizarre Adventure: Part 3--Stardust Crusaders (Single Volume Edition), Vol. 12: Stardust Crusaders (Paperback)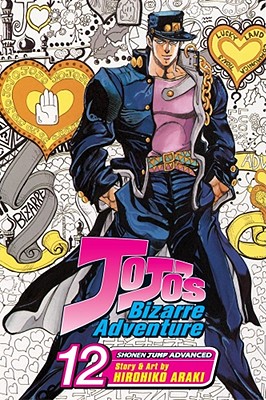 $10.99
This item is not currently available to order.
Description
---
An epic horror-action-adventure! Once there was a mighty bloodline of heroes: the Joestars. In the 1880s, Englishman Jonathan Joestar gave his life to defeat Dio, a megalomaniacal vampire. Now, 100 years later, Dio is back, and Jonathan's descendants must travel to Egypt to destroy their ancestral enemy once and for all.

The magic book of Mondatta has shown the future: Jotaro with a bullet through his head! Can he escape his fate?! As the heroes race against time to find Dio's secret lair, Iggi, the dog, is the first to discover the location. But Dio's guardian, a hawk with the power of an Egyptian god, will kill anything…and anyone...who threatens his master. It's the ultimate superpowered dog vs. bird battle!
About the Author
---
Hirohiko Araki made his manga debut in 1981 with the Wild West story Busô Poker. He experimented with several genres, including mystery (Mashonen B.T.) and action-horror (Baoh), before beginning JoJo's Bizarre Adventure in 1986. Propelled by imaginative storylines, weird imagery and individualistic artwork, JoJo's Bizarre Adventure is one of the longest-running and most popular shonen manga ever. Araki's current works include a new series set in the JoJo universe, JoJolion.